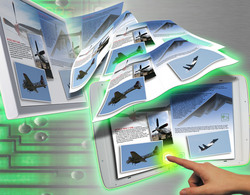 Educators can now customize the delivery of content from printed pages to their individual students
Cincinnati, OH and Washington, D.C. (PRWEB) August 19, 2008
Curriki , an online community for creating and sharing open source K-12 curricula and Somatic Digital , a developer of innovative technology-based products for publishers, today announced a content distribution partnership.
Under the agreement, Curriki-hosted educational materials will now be available with Somatic Digital's eTouchBook Suite™.
Curriki offers teachers, students and parents universal access to free, open source curricula and instructional materials for grades K-12. The site features more than 17,000 learning assets in its repository, and expects to grow that number to more than 28,000 by the end of 2008.
The eTouchBook Suite of hardware and software platform tools enable publishers, content owners, authors, and educators to manage and directly link their print and digital assets. The eTouchBook turns the regular or Braille printed page into a touch screen.
Educators now have the ability to create hybrid multi-modal interactive learning experiences for their students. By turning the regular printed page into a touch screen that the educator can control, the page becomes a filtered and customized portal to the digital world. For example, students with visual impairments can gain supplementary audio information by simply touching the tactile or Braille pages, while students needing visual supplementary information can read about the subject, touch a picture, and gain a video clip expressing more information about the subject.
"Educators can now customize the delivery of content from printed pages to their individual students," said Jason E. Barkeloo, Founder & President of Somatic Digital. Barkeloo concludes that, "With content from Curriki added to the eTouchBook, forward-leaning schools and educators have an easy-to-implement system to deliver educational materials and tutoring services."
"Curriki was founded on a belief that technology can play a crucial role in bridging the Education Divide - the gap between those who have access to high-quality education and those who do not", said Dr. Barbara Kurshan, Curriki's Executive Director. "We are excited to be working with Somatic Digital to further extend access to our high quality content to a wide range of specialized learners."
About Curriki
Curriki is a social entrepreneurship organization that supports the development and free distribution of open source educational materials to improve education worldwide. The online community gives teachers, students and parents universal access to peer-reviewed K-12 curricula, and powerful online collaboration tools. Curriki is building the first and only Web site to offer a complete, open course of instruction and assessment. Founded by Sun Microsystems in 2004, the organization now operates as an independent nonprofit.
For more information, visit http://www.curriki.org or phone 202-898-0833.
About Somatic Digital
Somatic Digital, LLC is a developer of the Touch User Interface (TUI) technology. This technology creates a "touch screen" out of the printed page by connecting paper directly to digital content that can reside on optical media, the Internet, or hard-drives. It enables a bridge over the digital divide because it eliminates barriers that previously prevented people from connecting to digital content. With the press of a finger, stylus or pointer, a physically, visually, or hearing impaired student can gain access to digital content.
For more information, please visit the Somatic Digital's web site at
http://SomaticDigital.com
Contact:
Laura Fairbanks
Operations Manager
513.322.5101
888.322.5121
http://SomaticDigital.com/about/contact
# # #