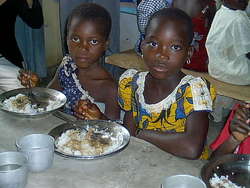 Ending Child Hunger: School Lunches for Kids Around the World.
Cincinnati, OH (PRWEB) August 22, 2008
A series of interviews with officials from the United Nations World Food Programme (WFP) emphasizes how crucial school meal programs are in the struggle against world hunger. Each interview was orginally published at Blogcritics magazine. A list of the interviews, arranged by country, is available at http://www.lamberspublications.com/schoolfeeding.html
The interviews detail the status of school feeding programs in countries fighting hunger and poverty including Afghanistan, Nepal, Benin, Central African Republic and Bangladesh. Each interview also shows how people can get involved in helping these nation's school meal initiatives, many of which are facing funding shortfalls and are not able to reach all children.
Author and historian William Lambers carried out the interviews in conjunction with the UN World Food Progamme's US Relations office in Washington DC. Mr. Lambers is a member of the WFP Committee of Ohio, an outreach initiative of the Friends of the World Food Program. He also directed the short film, "Ending Child Hunger: School Lunches for Kids Around the World." This film shows the importance of school lunch programs in the recovery of Europe after World War II and how today they can help nations like Afghanistan.
Newspapers and websites are encouraged to reprint any of the interviews provided the original source is cited.
###