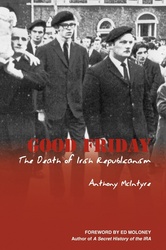 When I go home (to the United States) I go for a month at a time because the visits are so infrequent.
New York (PRWEB) August 18, 2008
Anthony McIntyre's first book was released this week by Ausubo Press, a New York publisher. But according to its Marketing and Publicity Director, William Cadiz, they had no idea a simple book launch or a book tour in the states was not possible for the Irishman's book Good Friday: The Death of Irish Republicanism. Visa requests have been repeatedly denied according to his wife Carrie Twomey, editor of the e-zine The Blanket. "When I go home (to the United States) I go for a month at a time because the visits are so infrequent."
So U.S. readers of McIntyre's blog The Pensive Quill will be denied the opportunity to meet him and learn first hand about the situation in Northern Ireland. But If Gerry Adams and Ian Paisley travel to the United States to discuss the "progress" being made in Northern Ireland as a result of the Good Friday Agreement, why can't Mr. McIntyre?
Author Ed Moloney explains in the book's Foreword that "The Adams/McGuinness leadership spent nearly two decades constructing and implementing the strategy to move from revolution to reform...it was clear to McIntrye that the only possible terminus of the journey would be…a settlement almost entirely constructed on British terms." One can speculate that McIntyre's differing opinion on the "progress" of the accord contributes to his inability to enter the country, despite the fact that his compilation of articles about the Irish peace process and the Good Friday Agreement is considered the best ever written on the subject.
Author Malachi O'Doherty affirms that "For historians and other journalists, the writings of Anthony McIntyre are an invaluable resource...No future histories of the period and the process will have any credibility if they don't draw on it."
Ausubo Press is honored to have published the book since The Blanket, the premier independent voice of Irish republicanism, closed shop on May 18, 2008. Many of the articles in Good Friday were first published in that e-zine and each was handpicked for the book by the author himself. Several articles are not electronically archived by The Blanket and can only be found in this book, making it all the more valuable. Mr. Cadiz said he continues to seek a venue for a book launch where the author will speak via telephone or video conferencing.
Ausubo Press is an independent multicultural, multilingual publishing company. It is one of several publishers in the United States producing books in more than one language. Works in Irish, and Luso-Brazilian and Native American literature are planned as part of its six-year publishing program.
For further information please contact:
William Cadiz
publicity @ ausubopress.com
(+1)917.573.6858
###