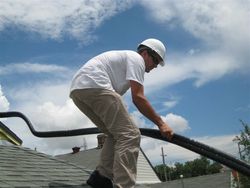 New Orleans, LA (PRWEB) August 19, 2008
Today, executives with New Orleans-based South Coast Solar, Louisiana's leading provider of solar electric panels, solar hot water heaters, and solar pool heating products announced that the Company has been chosen to be the solar energy provider and consultant for the first Make It Right homes under construction in the Lower 9th Ward.
"We are proud to have been selected by Make It Right New Orleans for this important residential project in New Orleans. As lifelong residents of the city, my partners and I are committed to rebuilding New Orleans greener and more energy-efficient than before Hurricane Katrina. The utilization of solar power for these homes will enable these returning homeowners to live in more environmentally responsible homes that use less energy, which for the homeowners will translate into significantly lower energy bills," says Troy Von Otnott, President of South Coast Solar.
In addition to meeting the qualifications of the RFP, South Coast Solar meets Make It Right's objective of utilizing as many local resources as possible. South Coast Solar will design and install the rooftop solar energy systems for these Make It Right homes. Solar energy design has commenced on the first six homes, some of which are expected to be completed by August 29, 2008, the third anniversary of Hurricane Katrina. Installation of each solar energy system takes only one day.
About South Coast Solar:
South Coast Solar, headquartered in New Orleans, LA, is Louisiana's leading solar energy company specializing in both renewable energy systems and energy efficiency products and services. The company provides design and installation of solar energy systems for residences, multi-family apartments, hotels, restaurants and commercial businesses. SCS provides solar electric panels, solar hot water heater systems and solar pool heating products. The company represents the top solar product manufacturers in the world including SunPower, Schuco, Enerworks and Heliocol. SCS is the only authorized dealer of SunPower in Louisiana. SunPower designs, manufactures and delivers the highest-efficiency solar electric technology worldwide. For more information on the company, visit http://www.southcoastsolar.com.
About Make It Right:
Make It Right's mission is built upon catalyzing redevelopment of the Lower 9th Ward by building a neighborhood of safe and healthy homes that incorporate modern, high-quality design and construction while preserving the spirit of the community's culture. Make It Right is committed to building 150 houses in the Lower 9th Ward; ensuring a green, affordable, sustainable, and replicable community to serve as a model for further rebuilding; including the Lower 9th Ward community as an integral part of the process; and a finance plan that ensures that residents who wish to return to the Lower 9th Ward can do so without further financial hardship. For more information on Make It Right visit, http://www.makeitrightnola.org.
###