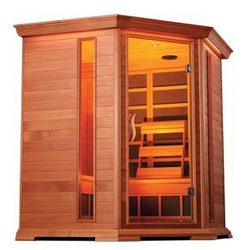 Saunas are an important aid to weight loss and thyroid repair because as you lose weight, fat tissue releases stored toxins such as PCBs and pesticides.
San Francisco, CA (PRWEB) August 20, 2008
Many people question the fact that infrared sauna can help people lose weight due to their misunderstanding on the part that infrared sauna contribute to weight management. Crystal Sauna has conducted an objective research on how infrared sauna can help people lose weight. The research results came with a clear explanation on what part infrared saunas play in weight management.
The research shows infrared sauna use can burn as many as 300 to 600 calories during one sauna session. This happens due to the sweating process itself, as well as increased heart rate. Even though most of the weight lost in infrared saunas is water, regular sauna use can complement a weight-loss program. Sauna removes water from body as well as salt. One may question what has salt to do with weight loss. Well, salt in our body is deposited beneath the skin and for the salt to remain nontoxic, it requires water. Hence to keep the body intoxicated, lot of water is required and this adds to the bulk. Now the sauna helps reduce weight by removing the excess salt in the body, which is deposited under the skin along with water.
An infrared sauna assists in weight loss in three significant ways:
1. It effectively reduces heavy metals which have been directly related to metabolic imbalances in the body causing poor digestion and weight gain.
2. It decreases fat stored (lipophilic) toxins. Often weight loss cannot be accomplished unless these toxins are first removed.
3. Although weight loss due to perspiration (water loss) is quickly regained, sending more blood to the capillaries and converting fats and carbohydrates results in as much as 600 calories burned during one short sauna session.
Beside Crystal Sauna's research, there are many doctors, health care professionals and fitness trainers who recommend infrared saunas because of the overwhelming benefits they provide. Dr. Sherry Rogers, a fellow of the American College of Allergy, Asthma and Immunology and a diplomat of the American Academy of Environmental Medicine, says in her book "Detoxify or Die" that an infrared sauna is the only way of removing man-made toxins from your body. Dr. Rogers also states that bio-accumulated toxic load in the human body is responsible for all disease not attributable to bacteria or virus.
Moreover, Dr. Mark Hyman, author of NY Times bestselling book "Ultrametabolism" and an infrared sauna user stated that, "Saunas are an important aid to weight loss and thyroid repair because as you lose weight, fat tissue releases stored toxins such as PCBs and pesticides."
About Crystal Sauna:
Crystal Sauna is an infrared sauna retailer that specializes in high quality products. Crystal Sauna emphasizes on educating the masses about the benefits of saunas and providing an easy way to communicate and provide answers to anyone through their "Open Dialog". In addition, Crystal Sauna has partnered with CarbonFund.org to operate a CarbonFree business. For more details, you can visit their website at http://www.crystalsauna.com.
Crystal Sauna
225 Bust Street, FL 16 STE 548
San Francisco CA, 94104
http://www.CrystalSauna.com
###