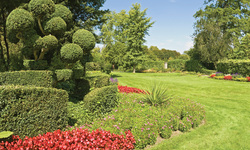 There are many simple and cost-effective things property owners can do to bump up their curb appeal, as long as they plan accordingly.
Chevy Chase, MD (PRWEB) August 19, 2008
Sixty-four percent of consumers think that their neighbor has the best lawn on the block, according to a May 2008 poll of homeowners conducted by the Consumer Reports National Research Center. If you're ready to do something about that 'lawn envy' by next spring, the time to start planning is now.
"Some people don't realize that a beautiful landscape in the spring and summer means a lot of work in the winter and especially fall," says Daniel Macpeak, lawn and shrubcare expert and owner of GoldLeaf Lawn and Shrub Care. "There are many simple and cost-effective things property owners can do to bump up their curb appeal, as long as they plan accordingly."
Macpeak shares his tips on what you can do this fall to plan for a healthy landscape:
-Plant bulbs between September and mid October. If you want color around your lawn the moment winter snow melts away for good, you have to plan ahead. Plant bulbs for tulips, daffodils, hyacinths and crocuses between September and mid October so that they'll be ready for spring.
-Aerate and seed your lawn in September or October. Aerating your lawn is a great way to loosen up compacted soils. Aeration also makes it easier for water and nutrients to reach the roots of your turf. Macpeak suggests an aeration and seeding treatment in early fall to help your lawn grow thicker and healthier - and with less weeds - in the spring.
-Don't install shrubs blindly! This goes for every season. Soil has different nutrient levels in different places of your lawn or yard. There is no guarantee that because one shrub survived at the edge of your yard, the same shrub will survive in the middle of your yard. A simple $25 soil test - implemented by a lawn care specialist like Macpeak - is all you need, and it might just save you all that time and money otherwise spent on moving and reinstalling shrubs. The results of a strong soil test should show a pH level between 6 and 7.5. The test will also show you if nitrogen, phosphorous and potassium levels are low, medium or high, and then provide the correct amount to add (or not add) to correct the problem.
-Apply Lime to your lawn between September and mid October. If your soil test shows a poor pH level, Lime is one effective way to improve that reading. A proper pH level allows nutrients and water to move more freely through the root zone in your lawn, which will make fertilizer more effective, and the lawn healthier.
-Don't plant any new shrubs after mid October. You want your plants well established and watered by winter time, or they might not make it to spring. And remember, annual flowers like mums and pansies must be planted in the fall in order to bloom in spring.
-Fertilize your trees and shrubs in October. Summer stress, followed a few months later by harsh winter conditions, requires you to refuel your trees and shrubs with as many nutrients as possible. When calling on a lawn, shrub and tree specialist, or of you're planning to fertilize your own lawn, you want to look for fertilizers with specific nutrient combinations. Use fertilizers with nutrient levels 10-20-20 (these are the nitrogen, phosphorous and potassium levels) for your lawn, and fertilizers with levels 20-20-20 for trees and shrubs.
-Monitor insects and disease, and treat any problems in November. Trees and shrubs will be more vulnerable to damage from insects and disease after the excessive summer heat that D.C. is known for. Arm your greens with Transfilm, a product used to prevent winter damage by holding in moisture, for the harsher winter months. It's ideal to treat your shrubs with Transfilm as close to winter as possible, during early to mid November.
-Don't be afraid to ask for help. One visit with a lawn care expert like Macpeak can really add to a homeowner's level of education about his or her lawn and shrubs, and it won't break the bank. An initial visit with Goldleaf is free and treatments begin at $50 for lawns and $75 for shrubs.
Daniel Macpeak started Goldleaf Lawn and Shrub Care with a vision to procure the most knowledgeable staff, and provide them with the best equipment, materials and technology in the market. The result is a full service lawn, shrub and tree care company that is passionate about making its clients' greenery thrive. Goldleaf specializes in aeration and seeding, nutrient management, insect and disease control and wellness programs for lawns, trees and shrubs. For more information, visit http://www.goldleaflawncare.com or call Goldleaf Lawn and Shrub Care at 301-718-1010.
###