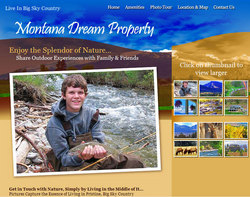 This beautiful home on a trout stream with 40 acres with its approved septic sites and its preferred treed building sites along the stream has enormous development and conservation potential. The bonus factor is that the owners are offering a separate 20-acre parcel, including irrigation. Now that's the approach if a buyer wants ultimate privacy
Hamilton, MT (PRWEB) August 19, 2008
In today's market, luxury property buyers are relying more and more on the Internet to search for that special dream property to call home. With this in mind, high-end sellers in Western Montana have launched an aggressive online marketing campaign to sell their historic waterfront Hamilton, Montana home and ranch on 40 acres sitting at the foot of the Bitterroot Valley. Visit estate ranch video at http://www.realestateshows.com/show.php?id=312009&code=cf8b04c9.
The one-of-a-kind completely restored home with a tree-lined creek cascading though the property for over one-quarter mile is located between Yellowstone and Glacier National Parks. While the owners engaged well-respected Montana real estate broker, John Payne of Montana Prime Properties, to offer their pristine Western Montana estate home, they didn't stop there. They created a web site to highlight the fully restored historic craftsman home with wraparound porches, breathtaking 360 degree mountain views and a private stream.
The sellers have taken advantage of the ease of using the Internet to get the word out about offering the estate ranch by posting a dream retreat video to showcase the monumental beauty of the surrounding Bitterroot Mountains, professionally landscaped grounds and original wood restored floors. After spending six years meticulously restoring this lodge with everything from a wine cellar, to fine finishes and energy-saving measures, they want to share its beauty and convenience with as many people as possible.
"This property is one of the most desirable and largest undeveloped tracts of land located close to Hamilton, Montana," said John Payne, expert real estate broker in the Bitterroot Valley region. "This beautiful home on a trout stream with 40 acres with its approved septic sites and its preferred treed building sites along the stream has enormous development and conservation potential. The bonus factor is that the owners are offering a separate 20-acre parcel, including irrigation. Now that's the approach if a buyer wants ultimate privacy," he noted.
To get the word out efficiently, they listed the home on key real estate web sites such as Landflip and published press releases about the dream home offering.
Prospective buyers can tour the large one-of-a-kind Western Montana home and request information by visiting Montana Dream Property Web Site or contacting John Payne at (877)-666-8262.
###