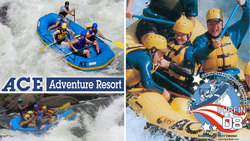 Clay, and group……yes, we wanted the shirt!
Oak Hill, WV (Vocus) August 19, 2008
It's about the thrill of victory. It's the pursuit of excellence. It's bragging rights at its best. Is it an Olympic competition or a world championship? No, it's the annual Surfin' Sunday whitewater rafting competition held at ACE Adventure Resort during Gauley Season. Created by ACE to create some fun competition among guests and guides and recognize exemplary teamwork, there is a team of four ladies from Cincinnati that hope to retain their title this fall.
Team captain Shellie Foust heads up the group who admit they do not raft the Gauley River only to bring home the trophy. "Our team consists of four women: Kelly Vogt, Joni Castle, Kim Patterson and myself. For the past six years, we've rafted the Gauley on a 'girls' trip. We leave the men at home and rage the water as best friends. When ACE began the Surfin' Sunday event, it became a serious competition for our guide, Casey "Cosmo" Clay, and group……yes, we wanted the shirt!" Gauley Sunday winners receive recognition and an exclusive Surfin' Sunday ACE t-shirt.
Foust defines a perfect Gauley outing as a day on the water with, "amazing weather, a great guide, incredible rapids, and fun competition." She defines the team's approach for this year as simply, "We are lovely ladies who like to run and ride the rapids, so we are just going to go out there and be ourselves, work as a team and… Defend Our Title!"
ACE Adventure Resort Marketing Representative and veteran guide Stephen Reid describes the Gauley River fall dam release as 23 parties in 23 days. "The limited fall release makes the Gauley River rafting season one that guests and guides look to each year. During the fall dam release the river is rated in the top five in the world, and only the Grand Canyon section of the Colorado in North America rivals the West Virginia River for technical difficulty and intense whitewater. Each day on the river is a treat."
The 23-day season begins the first Friday after Labor Day and runs on selected days through October. Each day is a party at ACE with "Festive Fridays,", "Sweet Saturdays,", "Surfin'Sundays,", and "Marathon Mondays" headlining every week of Gauley Season.
For the third year, ACE will host the Surfin' Sunday Competition as groups watch their trip videos and compare notes on their world-class experience. One rafting team from each trip of the day will be crowned champion. Winning teams exemplify group synergy with synchronized paddling and clean rafting lines through each rapid.
While visiting the area, Foust and her team will stay at the full service ACE Adventure Resort. "We haven't met a staff member from ACE that wasn't pleasant to be around. The facilities are top quality." The Cincinnati team wants to put "Cosmo" on alert,: they are coming to defend their title and have a huge strategy for this year's competition……but it's a surfin' secret!
###