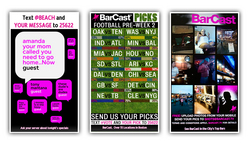 LocaModa's platform was the best solution, providing BarCast with maximum flexibility to build new and innovative applications that integrate out-of-home media with the web and social networks while engaging end-users
Cambridge, MA (Vocus) August 20, 2008
LocaModa, a technology company providing an interactive media platform that connects digital out-of-home, mobile and web networks and BarCast Networks, an interactive out-of-home media company, announce that LocaModa's platform has been chosen for BarCast's national rollout.
After an extensive six-month pilot with various technology vendors, BarCast has awarded LocaModa with the contract to supply its network. "LocaModa's platform was the best solution, providing BarCast with maximum flexibility to build new and innovative applications that integrate out-of-home media with the web and social networks while engaging end-users," commented Christian Vara, Founder, BarCast Networks.
Another factor in BarCast's decision was that the LocaModa platform runs on open standards and commonly available hardware running Windows, Linux or Apple OSX operating systems, reducing BarCast's costs and dependency on proprietary solutions.
"BarCast's content and user engagement strategy is exactly the kind of web-orientated experience that gets us excited. We're delighted to be enabling BarCast's network," said Bill Nast, LocaModa's VP Business Development.
BarCast and LocaModa's solution provides bar-goers with new ways to access and control digital out-of-home media, including interactive games, full motion video, text message chat, photo to screen, and text to vote. Another key difference with LocaModa's platform is that user interactions at locations can be reflected on profile pages of social networks like Facebook or Twitter, enabling users as well as advertisers to be better connected to the social graphs of engaged consumers.
"LocaModa and BarCast are setting the standard for out-of-home mobile and social interactivity. We're excited to be pioneering in the bar vertical at such a transformative stage in the industry," commented Christian Vara.
BarCast Network is currently in the hottest bars in Boston and Chicago and will be launching in Miami this month. Several additional top markets are planned for the coming months.
Click here for high-res images.
About LocaModa
LocaModa is a technology company that provides an interactive media platform connecting digital out-of-home, mobile and web networks. The company's platform connects people and places, enabling them to access and control media in their favorite places and online. LocaModa connects people in bars, cafes, colleges, public spaces and conferences. The company is privately held, headquartered in Massachusetts and founded by Stephen Randall, a former EVP/Founder of Symbian. True to its global vision, LocaModa is internationally backed by Dace Ventures in USA, Mahindra Group in India and Sumitomo Corporation of Japan, via its US-based strategic investing arm, PresidioSTX.
For more information on LocaModa, please visit http://www.locamoda.com .
About BarCast Networks LLC
The BarCast Network is an interactive network of high-definition flat panel displays that are placed in bars, restaurants, and clubs nationwide. These interactive displays feature unique BarCast content, full motion video, text-to-screen, text-to-vote, photo upload and more. The BCN interactive display allows patrons to communicate within and between locations via text message, uploaded photos, and live video conferencing.
For more information on BarCast Networks, please visit http://www.barcast.tv .
###