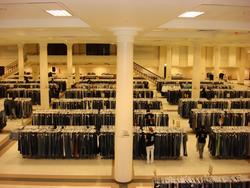 Designer denim is rarely if ever sold at a discount, so it's really exciting to bring all these great brands together in one place at below wholesale prices
Los Angeles, CA (PRWEB) August 19, 2008
Designer Denim lovers will unite Saturday September 6 and Sunday September 7, 2008 when The Warehouse Sale, the world's largest premium denim sample sale, lands at the Los Angeles Convention Center.
The Warehouse Sale is an exclusive, invite-only denim sample sale that offers the newest and hottest styles of the season in denim brands for both Men & Women. We are the largest in our trade covering over 40 cities in the U.S. and featured in three countries. With everything priced below wholesale, we make it easy for our shoppers to try new styles or brands without guilt.
Launched in 2004, by entrepreneur Jimmy Tung, The Warehouse Sale attracts thousands of denim enthusiasts to events in over 40 cities world-wide. "Designer denim is rarely if ever sold at a discount, so it's really exciting to bring all these great brands together in one place at below wholesale prices," says Tung. "With racks and racks of organized inventory, group fitting rooms and a helpful staff, Tung wants to ensure high end shoppers still get what he calls "a real shopping experience and not the typical sample sale free-for-all."
This shopping extravaganza features favorites such as True Religion, Taverniti, Rock and Republic, Evisu, Affliction, BCBG, Citizens of Humanity, Ed Hardy Shirts, Shoes, and more all for up to 80% off retail prices. The Warehouse Sale has been called a one stop shop for everyone combined with live DJ, Swag Bags, and something the whole family can enjoy.
Today, The Warehouse Sale offers over 30,000 items for shoppers to choose from, with over 50 different top brands in locations as big as 35,000 sq. ft. Touring the whole country. With the rising prices of everything today it is very refreshing to be able to get these brands all under on roof for 60-80% off.
"Paying Retail is a thing of the past."
"All in all, everyone loves fashion, even more when its at a bargain price, and we are here to make that happen. "We believe that to look good, you have to feel good, and with prices like this, you cant help but to feel good."
Click on the following links to see past interviews with ABC and Sonoran Living.
The Warehouse Sale will take place at the:
Los Angeles Convention Center
Concourse Hall
1201 South Figueroa Street
Los Angeles, CA 90015
Septemeber 7, 2008
10:00am - 4:00pm
VIP Day
September 6, 2008
10:00am - 4:00pm
Click here for directions to the Los Angeles Convention Center. To find out more information or to RSVP: TheWarehouseSale.com. For media passes, tours and interviews please contact Sarah Lee Kay, 888-LOVE-TWS (568-3897) or SarahLee(at)thewarehousesale.com.
Additional Events will be held at:

August 28 & 29 - Dallas, TX - Dallas Market Hall
August 31 & September 1 - Houston, TX - Westin Galleria Hotel
Septemeber 12 & 13 - Philidelphia, PA - Valley Forge Convention Center
September 16th - Boston, MA - Cyclorama
Septemeber 18th, 19th & 20th - New York - Metropolitan Pavilion
The Warehouse Sale
Contact: Sarah Lee Kay
Phone: 888-LOVE-TWS (568-3897)
###