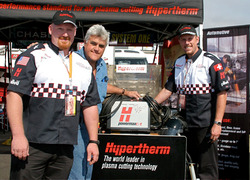 The Powermax45 packs quite a punch
Hanover, NH (PRWEB) August 21, 2008
The race is on to see who can own Hypertherm's new Powermax45® first. The world's most versatile and portable ½ inch Plasma Cutting and Gouging system began shipping today after a busy weekend filled with launch activities at California's Laguna Seca Raceway.
The highly anticipated plasma system was publicly unveiled for the first time on Saturday with help from the Big Dog Garage Race Team (http://www.jaylenosgarage.com). Jay Leno himself stopped by the Big Dog Garage Race Team's area at the races and signed the first, off-the-line Powermax 45 unit. Some of the more than 35 thousand people in attendance at the Rolex Monterey Historic Auto Races were then given an opportunity to cut with the unit.
"The Powermax45 packs quite a punch," said Bernard Juchli, head mechanic and race car driver for the Big Dog team. "The unit is so small and lightweight that the power really surprises you. Plus you can use plasma on all kinds of metal, including material that is dirty, painted or even rusted. It is a great tool for anyone working on cars or trucks."
The small, yet powerful, air-plasma system is designed for both Hand-Held and Mechanized applications. The unit's versatility and ability to easily cut through ½ inch metal makes it attractive to people who repair, restore or customize cars and trucks as well as people who work in a variety of others industries such as HVAC, farming, manufacturing, and fabricating.
"The Powermax45 is the only Plasma Cutter many people will ever need. It's easy to use yet it incorporates the latest in plasma technology to produce excellent quality cuts and long consumable life, which help keep productivity high and operating costs low," said Reese Madden, Hypertherm's Powermax product manager. "Add in the unit's portability, versatility, and Hypertherm Certified™ reliability and you have a Plasma Cutter that really delivers the features and benefits that matter most to operators."
Hypertherm's Powermax45 features patented technology and high power efficiency that allow it to deliver consistent performance even with low-line conditions or when connected to a motor generator. This feature--along with its light 37 pound weight--provides additional versatility as it allows the Powermax45 to easily move from the shop to the field and back again. The system includes the industry's fastest quick disconnect torch for simplified transitions between Hand-Held and Mechanized applications.
The unit joins Hypertherm's Powermax family of single-gas, handheld and mechanized plasma systems for cutting or Gouging metals from gauge to 1.5 inches thick. The Powermax line features industry-leading torch and power supply technologies that deliver high performance, high productivity and exceptional reliability at a low operating cost. To learn more about the features and benefits of the Powermax45, please visit: http://www.powerfulplasma.com.
Hypertherm designs and manufactures the world's most advanced plasma cutting systems for use in a variety of industries such as shipbuilding, manufacturing, and automotive repair. Its product line includes handheld and mechanized plasma systems and consumables, as well as CNC motion and height controls. Hypertherm systems are trusted for performance and reliability that results in increased productivity and profitability for tens of thousands of businesses. The New Hampshire based company's reputation for plasma innovation dates back 40 years, to 1968, with Hypertherm's invention of water injection plasma cutting. The company, consistently named one of the best places to work in America, has more than 1,000 associates along with operations and partner representation worldwide.
Contact: Michelle Avila at 603-643-3441 or pr @ hypertherm.com
###