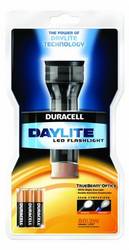 We've re-engineered the common flashlight into a more powerful tool that will help give professionals and do-it-yourselfers the vision to do their jobs better
Bethel, CT (PRWEB) August 19, 2008
In a professional setting or at home, trouble tends to hide in the dark corners. Today, Duracell is lighting the way with the introduction of the Duracell Daylite™, the first in a new line of flashlights that are durable enough to be used in the harshest of environments and compact enough to take into any space. Most important, the power and quality of the light beam is unsurpassed by any other device.
Developed to address the consumer demand for a better and brighter light, the heavy-duty Duracell Daylite™ was developed with patented TrueBeam™ technology which captures, focuses and projects more light than the typical LED and bulb technologies currently on the store shelves with settings from a focused spotlight to floodlight. The Daylite™ takes typical LED lighting technology to the next level. Even with a reflector or lens, a standard LED light source emits and captures light so inefficiently in a 180-degree pattern that it captures less than 70 percent of the total light produced. Duracell's TrueBeam™ Technology uses both a lens and a reflector to capture and project up to 100 percent of the light, delivering a brighter, whiter beam that totally eliminates the dark spot that plagues the typical flashlight.
"We've re-engineered the common flashlight into a more powerful tool that will help give professionals and do-it-yourselfers the vision to do their jobs better," said Rick June, Duracell Vice President and General Manager. "The difference isn't subtle, and we named it Daylite for a reason. It's like bringing a beam of daylight to the job. It's powered by Duracell batteries, but it's another example of how the company is bringing more than battery innovation to the market."
Because of its industry leading performance and durability, the Duracell Daylite™ flashlight is expected to become a fast favorite for safety professionals across the country. The premium features and value pricing of the Daylite™ also make it the perfect choice for the millions of do-it-yourselfers who are looking for bright, even light that easily and efficiently translates from a tight beam to a wide flood without any fade or dark spots. These features will make household projects and DIY fixes requiring a dependable, bright light source simpler than ever before.
As a result of the successful acquisition of Garrity in 2006, Duracell's technology partner, Illumination Management Solutions, helped bring the TrueBeam™ to the mass market.
The Duracell Daylite™ flashlight will be available beginning in August 2008 at mass, drug and hardware stores nationwide. The suggested retail price is $24.99 for AA and AAA. The CR123 will have a suggested retail of $34.99.
About Duracell
Part of the Procter & Gamble Company (NYSE:PG), Duracell has been powering people around the world for more than 40 years. Our products serve as the heart of devices that keep people connected, protect their families, entertain them and simplify their increasingly mobile lifestyles. As the world's leading manufacturer of high-performance alkaline batteries, Duracell also innovates in disposable, renewable and peripheral technologies and markets general purpose flashlights along with the advanced Daylite® LED flashlights. Visit http://www.duracell.com for more information.
About Procter & Gamble (NYSE:PG)
Three billion times a day, P&G brands touch the lives of people around the world. The company has one of the strongest portfolios of trusted, quality, leadership brands, including Pampers®, Tide®, Ariel®, Always®, Whisper®, Pantene®, Mach3®, Bounty®, Dawn®, Gain®, Pringles®, Folgers®, Charmin®, Downy®, Lenor®, Iams®, Crest®, Oral-B®, Actonel®, Duracell®, Olay®, Head & Shoulders®, Wella®, Gillette®, and Braun®. The P&G community consists of 138,000 employees working in over 80 countries worldwide. Please visit http://www.pg.com for the latest news and in-depth information about P&G and its brands.
###