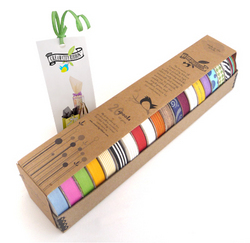 The uses for ribbon are endless, and with 29 available colors and unlimited patterns from Cream City Ribbon, it's easy to be both style savvy and eco conscious
Milwaukee, WI (PRWEB) August 20, 2008
Cream City Ribbon® is red, white and blue… environmentally responsible and gives back too.
Manufactured from cotton fibers and soy-based inks, biodegradable Cream City Ribbon, is the only U.S.-made, non-woven natural cotton ribbon on the market. In addition to individual spools, the new Cream City Ribbon Premium Ribbon Kit offers 20 spools and 100 yards of unique colors and patterns to add flair to gift wrap and crafts.
"Cream City Ribbon is about much more than just creating a pretty package, it's ribbon that expresses our shared commitment to the environment," said Lorette Russenberger, president of Cream City Ribbon. "Our manufacturing processes date back to the 1920s, but our use of organic materials and soy-based inks are about making a product that is good for the world today."
In addition to manufacturing an environmentally responsible product, woman-owned Cream City Ribbon is also focused on supporting community-based efforts. Five percent of sales from the Premium Ribbon Kit will be donated to the Urban Ecology Center, a non-profit organization focused on inspiring city kids to make positive environmental change.
From Baby Showers to Birthdays
The new Cream City Ribbon Premium Ribbon Kit, housed in a self-contained, post-consumer recycled cardboard sleeve that doubles as an easy-access dispenser, features six ribbon collections of on-trend colors and designs, ranging from funky to sophisticated. Prints include solids, stripes, polka-dots and popular phrases like "happy birthday." The collections include:

Baby Bump: (not) Crybaby Blue, Bubblegum Pink, Lime Squeeze, Joyful Jonquil
Sophisticate: Pinstripe (Jonquil/White), Graphic Stripe (Black/White), Silver and White Stripe
Stars/Stripes: Barn Red, White, Fireworks
Fall Forward: Spice Chambray, Mocha Chambray, Cabernet
Party Time: "Congratulations" (Silver/White), "Happy Birthday" (Jonquil/Teal)
Funky & Fun: Lilac Chambray, Hot Dot (Blue/Aqua), Argyle (Green/Cream), Zebra, Metro Stripe
The Premium Ribbon Kit includes a how-to booklet, demonstrating various uses for Cream City Ribbon. The unique natural fibers of the product enable it to be curled, shredded, tied, folded, woven, shaped and more. The versatility of the ribbon makes it ideal for uses such as gift wrapping, scrapbooking, creating barrettes, bookmarks and decorating tablescapes.
"The uses for ribbon are endless, and with 29 available colors and unlimited patterns from Cream City Ribbon, it's easy to be both style savvy and eco conscious," said Russenberger.
Product Specifics and Availability
The Cream City Ribbon Premium Ribbon Kit is available at http://www.creamcityribbon.com for $49.99. Individual spools of ribbon can also be ordered at the company's Web site or found in specialty stores nationwide, with a manufacturer's suggested retail price starting at $4.99.
Cream City Ribbon also manufactures Stickety Splits, peel and stick ribbon with a non-toxic adhesive backing.
About Cream City Ribbon
Since 1998, Cream City Ribbon® has been dedicated to producing environmentally responsible, high quality ribbon. Using manufacturing equipment from the 1920s, Cream City Ribbon is the only manufacturer in the U.S. to create non-woven, natural cotton ribbon. The biodegradable ribbon is made from cotton fibers, uses soy-based inks and is acid and lignin-free. All packaging and spools are made of biodegradable materials, with recycled content where possible. The privately-held company is based in Milwaukee, Wisconsin in a historic building constructed of cream city brick.
For more information, please visit http://www.creamcityribbon.com.
###