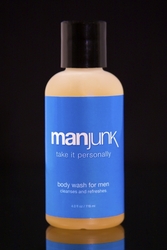 It's time to get private hygiene into the public eye and stop ignoring the real needs of men worldwide
Los Angeles, CA (PRWEB) August 20, 2008
Man Junk, the exclusive brand of men's personal care solutions, today launched its debut product: an organic, deep-cleansing intimate body wash. Tackling the sensitive issue of male private hygiene in a unique and open way, Man Junk's philosophy is based upon a commitment to improve the health and sex lives of men across the globe.
"It's time to get private hygiene into the public eye and stop ignoring the real needs of men worldwide," said Rowett, inventor of Man Junk. "Man Junk addresses a growing cleanliness concern while helping to refresh and replenish an area that is often disregarded."
A much-overlooked aspect of personal care, poor male hygiene can lead to inflammation, bacteria buildup, STD transmission, and even the increased risk of penile cancer. Man Junk cleans gently but effectively, working against bacteria deposits and other odor-causing agents, while leaving the body moisturized and soft to the touch.
Man Junk Rises to Challenge:
A product for such a critically sensitive area requires painstaking attention to detail in both the selection and formulation of ingredients. A task Mr. Rowett has been focused on for over two years.
"Man Junk developed more than 30 formulas before creating the perfect solution to address all the problems associated with intimate hygiene," said Rowett. "The ingredients that go into Man Junk are the finest, organic products available, and we craft Man Junk to be the perfect blend of these crucial materials."
Key ingredients include tea tree oil, Jojoba oil and Totarol, an extract from New Zealand. Totara trees have been proven to work powerfully against gram-positive and gram-negative bacteria, while Jojoba Oil augments the body's built-in healing process. Other ingredients, such as aloe vera and lime essential oil, indulge the skin and leave a pleasant, inviting scent.
Innovation in a Growing Market:
Man Junk addresses a growing demand in the personal care sector -- a market with an estimated $12 billion annual revenue that is expected to grow beyond $14 billion by the end of 2009.
Taking a dual approach, Man Junk utilizes the power of online product sales while developing both wholesale and retail distribution partnerships. Already a proven innovator in social technology, Mr. Rowett is using innovative approaches to educate the active consumer base that Man Junk appeals to. Initiatives such as Man Junk TV, the 'Clean or Dirty' Facebook application, and Man Junk's pledge to donate proceeds towards Prostate Cancer Research all exemplify an ethical business model.
"This product is the first of a series, the start of a huge shift in male personal care," said Rowett. "In the next four quarters, we will launch a suite of products that will continue to reflect Man Junk's attention to detail and how much we know and care about male personal health."
About Joe Rowett:
Joe Rowett, founder and CEO of Man Junk, LLC, is a recognized professional with more than 10 years of experience in management, marketing, and entrepreneurship.
An Internet marketing pioneer and an established entrepreneur, Rowett and his companies have generated more than $3.5 million in sales to date. Shifting his focus away from technology innovations and towards the personal care arena, Rowett brings vital operations and brand development experience to an industry that needs to deliver value, not fluff, to its customers.
Trademarks:
Man Junk, "Take It Personally", and other trademarks, service marks and logos are registered or unregistered trademarks of Man Junk, LLC. Copyright © 2008 Man Junk, LLC. All rights reserved.
Joe Rowett CEO of Man Junk, LLC, +1-877.262.6586, fax, +1-760-437-3777, or pr @ manjunk.com, or investors, investors @ manjunk.com -- ManJunk.com
###