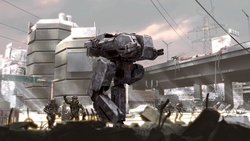 We are very excited to be working with a partner as strong and established as xaitment
Los Angeles (PRWEB) August 19, 2008
xaitment GmbH, one of the leading developers and service providers of artificial intelligence for the games and simulation industries, and Coreplay, a development studio located in Munich, Germany, announced today that they have begun work together on a first person action game entitled "Swarm - First Contact" for the PC and Xbox 360. In the game, players take on the roll of humans as they battle an attacking alien force that is bent on overrunning the earth and all of mankind. A demo of the game can be seen at this year's Games Convention in Leipzig at xaitment's booth, G20. The booth can be found in the Developer Village in Hall 2.
"Artificial intelligence is one of the most important aspects of today's games, although it is often overlooked," said Dr. Andreas Gerber, CEO of xaitment. "For that reason, I'm very excited to be working with the experienced and talented development team at Coreplay in order to demonstrate the possibilities that our xaitEngine technology can bring to gaming. With 'Swarm - First Contact', fans of action games will enjoy a thoroughly unique and long-lasting gameplay experience."
"We are very excited to be working with a partner as strong and established as xaitment," said Peter Ohlmann, founder and technical director of Coreplay. "The xaitEngine is the most modern AI engine on the market and supports our technologies perfectly. I look forward to our long-term partnership and to the new and innovative solutions that will come from it."
The core technology from xaitment, the xaitEngine, is the leading technology for artificial intelligence, especially in the areas of advanced AI, decision-making and behaviors. The xaitEngine provides the AI framework and all the tools necessary to set up and control xaitment's multi-agent AI solution. It manages and creates characters for the world, stores and retrieves knowledge about the world, and provides out-of-the-box bot behaviors. It also provides the framework for adding additional AI modules, whether those modules are xaitment's own feature-rich modules or the developer's AI code.
You can purchase the entire xaitEngine or choose from multiple stand-alone modules. Each individual module can easily and efficiently be integrated into an overall AI solution and/or into the game pipeline. In addition, each module comes with an intuitive, graphical interface to ease the learning curve and get teams up-and-running faster with more advanced AI.
About xaitment GmbH
A spin-off of the world-renowned German Research Center for Artificial Intelligence (DFKI), xaitment was founded in 2004 with the mission to create lifelike AI for games and simulations. Their mission led to the development of the xaitEngine, a highly customizable and highly modular multi-agent system that enables bots to learn from their mistakes, coordinate activities, compete with each other and achieve their goals with uncanny realism. For more information about xaitment and the xaitEngine, visit http://www.xaitment.com.
About Coreplay
Coreplay is an independent game developer located in the city center of Munich, Germany. As a licensed developer for Nintendo Wii and Xbox 360, it is Coreplay's mission to develop high-quality games that stand out with innovative design and intelligent gameplay. Every member of its management team possess years of game industry experience. Founded in 2007, Coreplay has offered its remarkable technological and artistic expertise to established developers in order to finance the development of original game concepts to be released on Xbox Live Arcade and PC.
###