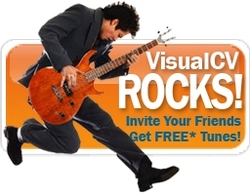 Reston, VA (PRWEB) August 19, 2008
VisualCV, Inc., the company reinventing the resume for the digital age, is encouraging its members to offer their colleagues, friends and family a better way to present their skills and qualifications online. The reward? Gift certificates redeemable at the AmazonMP3 store. Rock on!
The VisualCV community (http://www.visualcv.com) is focused entirely on the professional - providing them with tools to stand out and opportunities to network with other professional and company members. To that end, from now until August 31st, members can share invites to join VisualCV.com, receiving one credit for every individual that signs up and creates a VisualCV. Five credits translate into a free $5 Amazon.com gift certificate.* Any additional member referral over the initial five is rewarded with an added $1 gift certificate for each. Plus, every referral received serves as an entry into a drawing to win an 8GB Apple iPod Touch mobile digital device.
For more information about VisualCV's "Invite Your Friends: Get Free Tunes" promotion, please visit http://www.VisualCV.com/tunes and http://www.VisualCV.com/rocks.
A VisualCV is an online professional profile that presents a 360-degree view of experience through embedded images, charts, audio and video clips of work product, letters of recommendation, awards, qualifications and skills. VisualCVs can be used for job seeking, business development, bios, as a virtual business card, a mini website or as a portable professional profile to take wherever you have a digital footprint (e.g. facebook, LinkedIn, blog). Users can create multiple versions of their VisualCV in-line with their goals, each with a unique URL and user-controlled privacy settings.
*Certain terms and conditions apply.
About VisualCV, Inc.
VisualCV, Inc. has reinvented the resume to make it more relevant for networking, business development and career progression within today's Web 2.0 environment. VisualCV, Inc. provides technology and support for the VisualCV, the VisualCV.com community and "Powered by VisualCV" private-label platform. Headquartered in Reston, Virginia, the company has received investments from one of the world's leading executive search firms, Heidrick & Struggles (NASDAQ: HSII), and Valhalla Partners. For more information or to create a VisualCV, please visit visualcv.com.
# # #