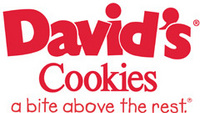 We've employed a number of new technique such as search engine optimization, affiliate marketing, an aggressive pay-per-click campaign and improved site design
Fairfield, NJ (PRWEB) August 20, 2008
David's Cookies announced today that its Internet division has grown 120% this year in spite of the economic downturn.
David's Cookies was a New York cookie giant that began on the East Coast before Mrs. Fields opened up shop in California. In the late 1980s, David's Cookies nearly shut its doors completely when they closed down 250 brick and mortar stores, until they were purchased by the New Jersey based firm, Fairfield Gourmet Foods Corp. soon after. The company transformed David's into a wholesale and food service model, revitalizing the organization on a national level.
As part of an aggressive plan to rejuvenate the retail side of the business, David's Cookies has focused on its online presence at DavidsCookies.com. Since the launch of this campaign in March of 2007, DavidsCookies.com has grown in both traffic and sales to more than double the previous twelve months. Competitors include Mrs. Fields, Cheryl and Co. and Cookies by Design. To compete, David's Cookies has maintained a free-shipping model and touted themselves as one of the few remaining providers of fresh-baked cookies online with no preservatives.
"We've developed some exciting new products that you can't find anywhere else, like our Deep Dish Cookie Pies and new line of cookie gift baskets," said Company Spokesperson Adina Miccio.
"We've employed a number of new technique such as search engine optimization, affiliate marketing, an aggressive pay-per-click campaign and improved site design," said Dennis Consorte, Director of Ecommerce.
Baked goods may be purchased online at David's Cookies and on television at Home Shopping Network.
ABOUT DAVID'S COOKIES - In 1979 Chef David Liederman (b 1949, New York, New York) began to create cookies that became the basis for the David's Cookies line of desserts, baked goods, and cookie dough. Liederman's first cookie shop was located in Manhattan, New York, and by the 1980s David's Cookies grew to over 250 cookie shops worldwide. In the late 1980s, many stores closed and David's Cookies was purchased by Fairfield Gourmet Foods, a New Jersey-based cookie manufacturing company. The line was expanded to include tarts and cakes when Fairfield Gourmet acquired Bittersweet Pastries. Most products produced by David's Cookies are kosher dairy.
###