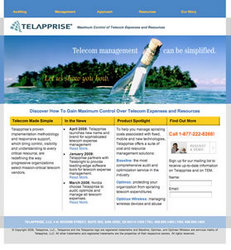 Given the importance of our website as a vehicle for two-way communication with our customers, it made sense to provide more resources and information to help them sort through their options.
San Jose, CA (PRWEB) August 21, 2008
Telapprise today launched a new customer-focused corporate website with an infrastructure centered around its main service offerings: Baseline, OptiMax, OptiMax-Wireless, and Professional Services. The website, http://www.telapprise.com, is designed in direct response to Telapprise's research into what their customers really want.
Telapprise Vice President of Sales Marko Spremo says, "At Telapprise we have always taken customer service very seriously, listening to our customers about the telecom issues they face daily. Over the last year we conducted a series of informal research discussions and the results have strongly influenced the new website navigation and content."
With telecom expense management (TEM) being an essential tool in driving down spiraling telecom costs, Telapprise is dedicated to helping IT managers and CFOs find short-term savings and ensure long-term results. The new website provides managers with the ammunition they need -- including links, resources, and process clarification -- to find innovative ways to gain process efficiencies, actionable intelligence, sustainable cost reductions and control.
The new website clarifies navigation for greater usability, while providing greater insight into the company's proprietary processes. It also includes an ROI calculator that helps managers determine the actual month-to-month savings they can expect by identifying bill discrepancies and optimizing invoice processing.
According to Marko Spremo the market's maturity demanded a change: "Most companies are overwhelmed by the number of choices in purchasing and managing telecom equipment and services," said Mr. Spremo. "Given the importance of our website as a vehicle for two-way communication with our customers, it made sense to provide more resources and information to help them sort through their options."
Davin Lundy, Vice President, Client Services added: "We are in a competitive market. Clients rightly expect strong solutions and professional service. At Telapprise, we believe that our current products and services are the very best available. But we will continue to listen to our customers to refine our products and services to meet their ongoing needs."
Telapprise encourages everyone interested in TEM or the company to visit the new website at http://www.telapprise.com, and to let the company know how to make further improvements based on their needs and interests.
What Are the Benefits of TEM?
For most organizations, telecom expenses are out of control. Carriers today -- after decades of monopolies, deregulation of services, mergers and acquisitions -- are unable to provide companies with an accurate, readable telecom bill.
Telecom carriers cannot verify that their billing reflects the services a company has ordered. Nor can they reliably prove that the company is not being billed for disconnected services. And when it comes to contracts, it's not always in their best interest to give companies the lowest competitive rate possible. If an organization doesn't have time to analyze inventory and compare it to billing, they are probably overpaying for services.
But managing telecom services is a complex endeavor. It requires constant attention by qualified technical personnel who can perform systematic audits to identify cost exceptions and alert management. Telapprise TEM services, backed by a strong software platform, provide a fully integrated solution that automates telecommunication management to help organizations eliminate waste and optimize resources.
About Telapprise
Telapprise, LLC., formerly called Accucom, provides telecom expenses management (TEM) solutions and services that significantly reduce telecom expenses across a broad range of industries. Headquartered in San José, California since 2002, Telapprise protects clients from unnecessary telecom expenditures across the entire expense lifecycle of services.
Telapprise offers a suite of cost and resource management solutions -- including a stringent audit, ongoing proactive expense management and efficient telecom procurement -- to help organizations manage spiraling costs associated with fixed, mobile and new communications technologies.
The company's proven source-to-pay implementation methodology and responsive support, which bring control, visibility and understanding to every critical resource, are redefining the way progressive organizations select mission-critical telecom vendors.
For more information about Telapprise, the company's new website, or their suite of telecom expense management solutions, please contact Tom Lauck, Marketing Communications Director, or visit http://www.telapprise.com .
###