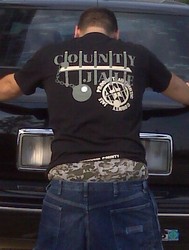 Do I like the look? Not particularly. Do people have the right to wear it? Yes, absolutely
Ocean County, NJ (PRWEB) August 20, 2008 -
Dan Longyear aka CJ Freeman is fed up with government imposing ridiculous laws that impinge on personal and civil freedoms. After seeing a proposed ban on "saggy pants" being considered in Paterson, NJ, Mr. Longyear has created Underwarz™, boxer shorts that combine with pants and shorts that to create one garment to comply with indecency laws, or "saggy pants bans" that are being enacted or considered across the United States.
"The fashion police was always a running joke. Now it's a reality in many communities," says Dan. "People can be stopped and searched under probable cause, people can be fined and locked up. People can gain a criminal record. This country was founded in Freedom and they are being taken away one by one. To say this fashion is "indecent" is almost beyond comprehension. Just take a look at history; pantaloons to pants, tie-dye and bell bottoms, mini-skirts and hot-pants, bikinis and thongs…and we haven't imploded yet."
Underwarz™ continues the tradition of Freedom spoken by all brands owned by CJ's City Clothing Company.
County Jale® - All About Freedom
Creative Justice™ - Think.Edgy.American. Think-For Yourself. Edgy-You Bet. American-100%
Underwarz™ - Gang for Freedom.
"Do I like the look? Not particularly. Do people have the right to wear it? Yes, absolutely," said Mr. Longyear. He feels these laws are unfairly targeting a group of people and that is profiling. "We are a gang - a Gang for Freedom." He will be taking Underwarz on the road to show how unjust these laws are. "I'm not looking for trouble. I'm looking for dialogue. I'm looking for all those who believe in Freedom - and who can argue with that," says Dan.
Underwarz™ is currently in sampling and will be available by October 2008. Styles will include Denims, Khakis and Camo's in different finishes. Creative Justice™ and County Jale® are available at retail outlets and information is available at http://www.the1creativejustice.com . The Underwarz™ road trip will be blogged at underwarz.blogspot.com . In addition, 7profitz, a Long Island, NY hip-hop group are currently creating a music video to support the efforts of Underwarz™. http://www.7profitz.com
Contact Information: Dan Longyear - underwarz(at)live.com creativejustice(at)live.com
609-857-5269/508-802-0197cell
###