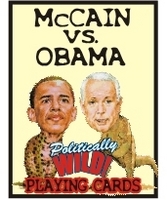 Both of these political decks of cards have a little fun with the Presidential candidates and also highlight some of the top political issues of our time
Circleville, OH (PRWEB) August 20, 2008
Newt's Playing Cards has published two different decks of Politically WILD! (http://www.politicallywild.com) Playing Cards ($6) which hallmark various politicians, political celebrities and issues as wild animals and scenes. One deck is intended for Barack Obama and the Democrats and the other deck is intended for John McCain and the Republicans.
As we continue to move closer to the WILD 2008 Presidential Election, there is no doubt these decks of cards will continue to make light of the WILD politics we see every 4 years. "Both of these political decks of cards have a little fun with the Presidential candidates and also highlight some of the top political issues of our time," says James Esteph, President of Newt's Playing Cards. "I could have never imagined making political figures in to wild animals could be so much fun and entertaining."
Senator John McCain has been drawn as a dinosaur, skunk and horse with Senator Barack Obama drawn as an Ostrich, Jaguar and Baby Boomer in these unique decks of cards. While each deck supports the respected candidate, there are drawings of many other politicians and political celebrities. For example, Sean Hannity as a Kangaroo, Mike Huckabee as a Dodo Bird, and Hillary Clinton as a Lioness to name a few.
Another different aspect of this "interactive" political deck is that many of the remarks on the cards come from the comments that have been added to a political blog (http://blog.politicallywild.com) over the past few months. This renders these playing cards the first interactive deck that allows the general public to be involved in its content.
Serving as miniature political posters, the card back designs and aces depict face shots of Senator McCain in the Republican deck and Senator Obama in the Democrat deck.
About The Publisher, Newt's Playing Cards:
Newt's has been selling playing cards since 2000. Over the years NewtsGames.com (formerly NewtsCards.com) has transformed into the playing card portal on the internet offering playing cards from around the world. (http://www.newtsgames.com)
###