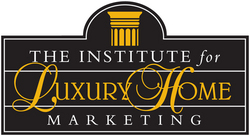 We've been working to find more benefits for Institute members, and we're excited about this one
Dallas, TX (Vocus) August 21, 2008
After a year of negotiations, The Institute for Luxury Home Marketing has entered into an agreement with The Wall Street Journal which allows active Institute members to list luxury residential properties on The Wall Street Journal's website at no cost. "Special member benefit worth up to $6,300.00," says Institute President
"We've been working to find more benefits for Institute members, and we're excited about this one," said Institute President Waco Moore. "One of our goals is to help luxury home agents add the best resources to their marketing tool boxes while squeezing more value from their marketing dollars. Property ads in The Wall Street Journal's Online edition certainly offer great exposure for luxury listings. The fact that our active members get up to eighteen 60-day property listings at no cost makes this a huge benefit, especially in today's market."
"Not only will this add more marketing value to my existing property marketing plans, but being able to offer to put a seller's home on The Wall Street Journal's website, gives a prospective seller one more reason to list with me," said Institute member Mike Brodie, a top luxury agent with Keller Williams in Dallas, Texas.
Active members of The Institute for Luxury Home Marketing will find information about the free listings by logging onto the Members Only section of The Institute's agent website where they'll find complete information and a short video guide to listing their luxury properties on the Journal's website, http://www.WSJ.com.
About The Institute for Luxury Home Marketing:
The Institute for Luxury Home Marketing exists to help real estate professionals around the world provide high quality service to buyers and sellers of luxury properties. Institute members have completed special training to build expertise in the marketing of upscale homes and estates. Those members who meet performance standards may earn the prestigious Certified Luxury Home Marketing Specialist (CLHMS) designation. Information and an international membership list can be found at http://www.CLHMS.org.
###