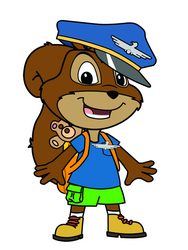 Chipper's plush Pillow backpack is our answer to mom carrying the pillow, stuffed animal and stuffed backpack
Marin, CA (PRWEB) August 21, 2008
IAGmedia Inc. extends its Let's Go Chipper series this holiday season with the introduction of "Get Ready to Fly," a get-ready activity set that helps parents eliminate the stress of traveling with kids.
From what to pack, to check-in, boarding, flying and landing, "Get Ready to Fly" is a story and activity book with crayons nestled into a plush, self-adjustable pillow backpack that helps prepare kids for flying before mom or dad even packs a bag. The entire package is delivered in a reusable tote bag so kids have a character to help guide the way, and mom or dad has a bag for extras to help keep everyone on track.
"Traveling is stressful enough these days but young kids, and first time fliers, are even more vulnerable to the anxiety associated with new sounds, processes, and unfamiliar faces associated with flying -- our goal is to help prepare children so parents don't have to appease them along the way," says company founder Stephanie Rach-Wilson. "Chipper is a character kids can relate to so we utilize the stories and activities to playfully teach kids good behavior in a variety of experiences."
AAA says almost 15 million families fly between the Thanksgiving holiday and Christmas holiday so being prepared is essential when gearing up for a family vacation. Where most families experienced "staycations" this summer, holidays will put parents to the test and Chipper playfully guides kids through potentially stressful traveling situations.
The Get Ready to Fly activity set is the perfect gift to help excite and ready a child zero to six for the trip. The book is a step-by-step story about what to expect when flying, with activities and checklists to help reinforce the message. The plush Pillow backpack features Chipper on a pocket perfect for small travel treasures to help a child feel independent.
"Chipper's plush Pillow backpack is our answer to mom carrying the pillow, stuffed animal and stuffed backpack," says Ms. Rach-Wilson. "It's lightweight, soft, and features ties with safety snaps so it's three items in one that mom or dad won't have to carry because it rests comfortably on a child's back from check-in to naptime and landing."
The Get Ready to Fly set is available online at http://www.getreadytofly.com, http://www.babycenter.com and specialty retailers. The storyline is the latest in IAGmedia's award-winning Let's Go Chipper series. The Company recently received an iParenting 2008 "Outstanding" product award for its "Into the Great Outdoors" DVD set. The main character, Chipper, continues to playfully teach young kids good behavior through experiences in nature and everyday situations; while also providing parents with a positive character to reference and reinforce social skills.
IAGmedia Inc. is a media and marketing services company delivering content, products and programs that instill positive life skills and inspire respect for self, family, and contribution to community. For a complete list of products and services visit http://www.iagmedia.net, email info @ iagmedia.net or call 415-271-9603.
###