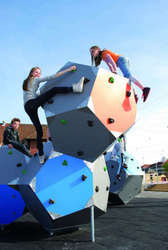 The massive form of twisting geometric shapes and colours attracts just about everyone who sees it; it is visually interesting and it becomes the centrepiece for meeting and conversation. But that is not at the expense of the function of BLOQX. Because of this harmony between form and function, BLOQX has initially been one of the most popular products we have ever shown to architects
Ringe, Denmark (PRWEB) August 22, 2008
KOMPAN, a worldwide leader in playground and sporting equipment, introduces BLOQX - a climbing structure based on a simple, 3-dimesional geometric shape which is outfitted with professional climbing grips and can be stacked in various configurations. BLOQX is a multi-faceted structure that encourages free climbing and presents physical and mental challenges for 8 - 15 year olds. Movement across BLOQX requires training, movement planning and strength, but it is simple enough that anyone can jump right on.
And the stacked BLOQX structures are a sculpture in their own right.
"The massive form of twisting geometric shapes and colours attracts just about everyone who sees it; it is visually interesting and it becomes the centrepiece for meeting and conversation. But that is not at the expense of the function of BLOQX. Because of this harmony between form and function, BLOQX has initially been one of the most popular products we have ever shown to architects," says Carsten Madsen, Director of Sales for KOMPAN.
The BLOQX concept was designed in cooperation with Koos van Raalt, a climber, entrepreneur and owner of Holland's "Outdoor Valley," one of Europe's leading climbing parks. Mr. Roos acted as an advisor through the design process and helped KOMPAN to develop BLOQX to include as many climbing challenges as possible in the design.
BLOQXing is the name of the game when climbing on BLOQX. BLOQXing encourages competitive play and teamwork, and a number of climbing games can be organized to challenge climbers of all abilities and inspire them to find effective ways to master the structure. Those who reach the top first, usually get the best vantage point in the park.
"When you reach the top it is the place to see and be seen and meet new friends," says Madsen.
"Kompan was founded thirty five years ago by an artist who was inspired by children playing on his oversized, colorful sculptures in a park. BLOQX is a perfect example that this approach is still very much at the heart of all of KOMPAN products."
BLOQX can be purchased in 6 different configurations, which are suitable for both small and large parks and public spaces. BLOQX meets the European standard for playground safety (EN 1176) and goes further by ensuring all climbing grips are installed higher than the reach of young children and that climbing grips aren't placed in high fall zones. The benchmark durability built into all KOMPAN products is also a cornerstone of BLOQX design.
For More Information, please contact Lone Granzow Andersen +45 2285 3152 or longra@kompan.com
Click here to learn more about BLOQXing games or playground climbing and the complete BLOQX product range or visit KOMPAN online.
###