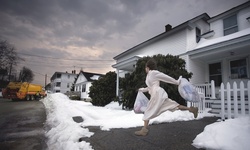 Most Deserving of a New Camera
Calgary, Alberta (PRWEB) August 20, 2008
iStockphoto, the world's royalty-free multimedia sales leader, has announced the ten winners in its second annual Punctum Day awards. 'Punctum' refers to a profound reaction an excellent image creates. The finalists were shortlisted by the three and a half million-strong iStock community, and a panel of guest judges selected the winners, who hail from seven different countries. The Photo of the Year, "Late Trash," is a creation by Trent Bell (TrentBell) of Biddeford, Maine, and showcases the innovation and vision of iStockphoto's contributors.
The 50 finalists for five of the categories were selected from over one million photos, vectors, videos, Flash files, and design submissions newly uploaded in the last year. The judging panel selecting the winners included Warren Cook, creative director with Jamison Advertising Group based in San Diego, California, Sandra Castanha, creative director at Ferrier Pearce, a creative design agency based in Surrey, United Kingdom, and Brad Hochberg, co-director and president of award winning The Refinery, based in Burbank, California.
The winning contributors were:
Photo of the Year: Trent Bell (TrentBell) of the US with Late Trash http://www.istockphoto.com/file_closeup?id=6494568
Vector of the Year: Bekir Gürgen (begur) of Turkey with cat and child
http://www.istockphoto.com/file_closeup?id=4410077
Video of the Year: Tomasz Dega (creativeballs) of Poland with party teddys
http://www.istockphoto.com/file_closeup?id=5839426
Flash File of the Year: Alexandra Mikhnevich (Mahno) of Russia with Miracle of makeup
http://www.istockphoto.com/file_closeup?id=6187201
Design of the Year: Anthony McGovern (Atomic77) of Australia with Adobe Online eSeminars
http://www.istockphoto.com/design_spotlight_details.php?ID=17964
Most Deserving of a New Camera: Danish Khan (danishkhan) of Pakistan:
http://www.istockphoto.com/danishkhan
Most Improved Contributor of the Year – Ronnie Sampson (viridian1) of US: http://www.istockphoto.com/viridian1
Hall of Fame:
Hall of Fame inductees are members who have left an indelible stamp on the history of iStock.
Jester -- Aaron Springer, Chief Technical Officer, iStockphoto
The designers at Evolvs.com were still tossing around the idea of giving away free stock photographs on the Internet when they brought in Bruce's old pre-press mentor to be the first employee of iStockphoto. Jester was a recent graduate of the University of Calgary fine art department. He'd taught himself computer programming. And then, over the ensuing years, he built iStockphoto. Aaron has sunk more time and grief into the back end and architecture of iStock than anyone else: late nights, long hours, all with an unparalleled rigor and dedication. Now he leads a whole team of highly skilled developers and expert programmers. He's guided iStock from a small experiment to an inspirational online world and international business success story.
Hidesy -- Amanda Rohde, Australia, Black Diamond Contributor
The reason Hidesy is in the iStock Hall of Fame is all around you. No matter what city or country you live in: it's on your dinner menu and the billboard in your bus shelter and probably every other ad in your telephone directory. It's that Australian sunshine that Amanda Rohde captures so perfectly. Hidesy is the blueprint of iStock success: a self-taught photographer who, through trial and error and a lot of rejected pictures at the beginning, changed the way the world looks. She made it brighter, crisper, and sexier. She's an inspiration to tens of thousands of photographers.
Intransfer -- Brianna Wettlaufer, former V.P., Content Development
Intransfer wasn't satisfied with bell peppers and USB plugs. She wanted style, grace, sensuality, and beauty. Rather than just wait around, she made it happen herself. She took the iStock inspection team from a small, diffuse bunch to a well-trained, well-organized machine. She created and codified the quality standards that set iStock apart from the rest of the field. She demanded the best from us. She brought art direction and international flair to our photographer get-togethers, enough so that 'get-together' just didn't fit anymore and 'iStockalypse' became the name the world associates with first-rate training of developing stock photographers.
The Punctum Day awards category winners will each receive $5,000 USD, with the exception of the winner of "Most Deserving of a New Camera" award, who receives a Canon EOS 5D with lenses valued at $5,000.
About iStockphoto:
iStockphoto, http://www.istockphoto.com, is the world's leading royalty-free stock destination, with an image downloaded every 1.3 seconds. iStock pioneered the micropayment phenomenon in this industry, enabling buyers to license images for as little as a dollar. iStockphoto entered the stock video market with similarly enticing price points in September of 2006. In partnership with its members, iStockphoto has turned community into commerce, transforming the digital imagery market by encouraging passionate dialogue and education, while making imagery affordable to businesses that may not have licensed imagery otherwise. iStockphoto is headquartered in Calgary, Alberta, Canada, and is a wholly-owned subsidiary of Getty Images.
Contact:
Kara Udziela
Vibrance PR for iStockphoto
360.574.2466
503.260.0441
Dean Rodgers
PR consultant
dean @ istockphoto.com
(503) 699.7990
###