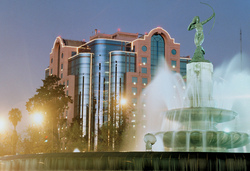 Mexico City, Mexico (PRWEB) August 22, 2008
Day of the Dead, a lesser-known holiday stateside, is one of Mexico's most important holidays, celebrated annually on November 1st and 2nd with festivals, cemetery gatherings and candies in the shape of skulls in honor of the lives of loved ones who have passed on.
Mexico City's boutique hotel Marquis Reforma offers a two-night Day of the Dead package that includes: a trip, with box lunch, to the village of Mixquic outside Mexico City, famous for its Day of the Dead festivities; luxury accommodations in a Junior Suite; one spa treatment per person, per stay; daily buffet breakfast; transportation to Santa Fe shopping center; and early check-in and late check-out. The two-night Day of the Dead package at this Mexico City hotel is available from November 1 to 3, 2008.
Rates are $820 per room based on double occupancy. For reservations or more information, call 1-800-235-2387 or visit Marquis Reforma.
The Day of the Dead (Dia de los Muertos in Spanish) celebrates the memory of deceased ancestors on November 1st and 2nd. Dating back to the Aztecs and Mayans, Mexicans believe the souls of the dead return to earth. In Mixquic, families build altars in their homes, visit cemeteries where loved ones are buried, and decorate graves with offerings such as marigolds, candies, toys and tequila. Families often spend all night beside graves playing cards, eating, drinking and dancing. Locals and travelers share pan de muerto (bread of the dead), a sweet egg bread decorated in white frosting, and dance in colorful costumes with skulls and devil masks in the main plaza. Some 15,000 travelers visit Mixquic during the Day of the Dead.
The 209-room Marquis Reforma, a member of Leading Hotels of the World, is located on fashionable Paseo de la Reforma and its renowned Chapultepec Park. The hotel is within a short walk or drive from the City's finest parks, restaurants, and museums including the National Museum of Anthropology, the Museum of Modern Art, the Museo Rufino Tamayo, and the Museum of Popular Art.
A centerpiece of the hotel is the 16,000 square foot spa, the largest in the region and the only member of eading Spas of the World in Mexico City. The hotel's La Jolla restaurant is presided over by a chef honored at the illustrious Beard House in New York, and its new Los Canarios restaurant is already one of the City's top power lunch dining spots, where live canaries serenade guests. The lobby lounge offers a chic ambience for cocktails, conversation, and a lavish Sunday brunch.
###