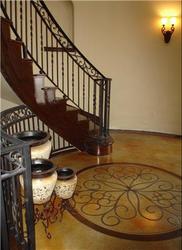 Yucaipa, CA (PRWEB) August 22, 2008
Designed to provide specific and detailed information, Concrete-Floors.org is a new website aimed at educating consumers all about concrete flooring options. The site addresses every imaginable question about concrete floors, such as 'Are concrete floors cold?' 'Are concrete floors loud?' and 'How much do concrete floors cost?'
Concrete-Floors.org also guides consumers through the design process and describes various finishing options for concrete floors, coloring ideas, and more. It includes a comprehensive photo gallery offering design ideas for concrete floors used in kitchens, family rooms, commercial and retail locations, and restaurants.
In addition, the site explains the eco-benefits of concrete floors. Recognized by design and building communities for its health and environmental benefits, concrete floors are a unique flooring material that help reduce allergens, incorporate recycled products, work great with passive solar designs, and are one of the most durable flooring options.
Concrete-Floors.org also brings together consumers and local concrete contractors by pointing to a nationwide contractor directory. Consumers can use the site to learn about concrete floors, choose photos of designs they like, and then access the directory for contact information for concrete flooring contractors in their local area.
Photos courtesy of Image-N-Concrete Designs.
###