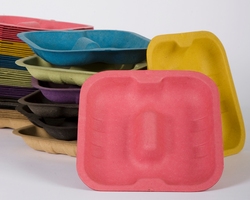 The variety of vibrant colors opens up exciting new possibilities for the use of the already popular packaging
Vernon, Calif. (PRWEB) August 21, 2008
Imagine a package as red as an apple and just as biodegradable. PWP Industries has recently launched a colorful new series of biodegradable packaging, AgroResin® Rainbow, expanding its AgroResin® fiber composite packaging portfolio.
"The variety of vibrant colors opens up exciting new possibilities for the use of the already popular packaging," says Scott Sanders, Director of New Business Development, PWP Industries. "The intense and undeniably attractive colors of the AgroResin® Rainbow series have been specially formulated to accentuate the packaging of food and produce to enhance their marketing appeal."
The Rainbow series, available in many shapes, sizes and colors, is permeable to air, water and grease resistant, and microwaveable. "The development of the Rainbow series makes AgroResin® a great sustainable - yet cool - choice of packaging for perishable produce, quick-service, frozen, and deli food applications," explains Dr. Yan Xu, Founder and Managing Director of GRENIDEA, a sustainable material company.
AgroResin® Rainbow allows companies to project a hip image which will appeal to youth audiences, and with the flexible choice of a spectrum of eye-catching colors, companies can match tones to complement their food presentations. In addition, the use of AgroResin® Rainbow promotes companies as good corporate citizens through their adoption of a sustainable alternative.
For more information on pricing and sales for AgroResin® and other products from PWP Industries, please contact PWP Industries, toll-free, (877)-700-0330. http://www.pwpindustries.com
PWP Industries, founded in 1998, is a leading PETE and Polypropylene food packaging thermoformer in North America, with manufacturing plants located in Vernon, California, Abilene, Texas, and Mineral Wells, West Virginia. PWP is highly regarded in the food packaging industry for producing competitively priced quality parts, superb customer service, and innovative product designs.
About AgroResin®: Designed using a lifecycle approach, AgroResin® is a molded fiber composite made primarily of cellulose or lignocellulose fiber networked via adhesives. It takes advantage of the abundant and renewable fiber residue of agricultural farming. The first molded fiber composite packaging in the world, AgroResin® can be made from any plant fiber, enabling sustainability and a positive impact on the ecosystem.
###