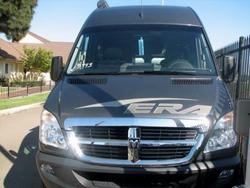 We've designed this promotion to introduce a whole new group of Southern Californians to the RV Lifestyle and our top-notch service
Carson, CA (PRWEB) August 22, 2008
Customers are making their way to Altmans Winnebago in Carson California to take full advantage of Altmans "California First" program. For a limited time only Altmans Winnebago is offering a special program for Southern California First Time Buyers in zip codes 90001-93599.
Altmans Winnebago, one of Southern California's largest RV dealers and Winnebago Industries are proud to offer the 2009 Winnebago ERA loaded with superb interior and exterior refinements in a boldly-styled package that delivers comfort, functionality and performance at an Altmans "California First" unbelievably low price.
"We've designed this promotion to introduce a whole new group of Southern Californians to the RV Lifestyle and our top-notch service," according to Joe Altman. "The promotion has some restrictions - the motorhome must be for personal or family use only, the buyer must be a 1st-time RV buyer, and the buyer must live and register the motor home in Southern California. It's that simple"
"Winnebago has asked us not to publish the price as it would disrupt the market on these vehicles, but potential buyers need only call us to get the full details," according to Altman.
The Winnebago ERA, a Class B motor home, combines maneuverability and functionality into a seamless, aerodynamic package. Featuring the new Dodge® Sprinter 2500 chassis with a Mercedes-Benz® 3.0L, 6-cylinder turbo-diesel engine that works seamlessly with the five-speed automatic transmission, four-wheel ABS and independent front suspension for a driving experience like no other.
"When I walked into Altmans showroom I couldn't take my eyes off this stunning, bold, class B ERA"

"You have to take the ERA on the road to truly get the feel of a small luxury RV"

Altmans Winnebago, Winnebago Industries, Dodge and Mercedes-Benz, names you can rely on. Find out for yourself why the Winnebago ERA with striking exterior, smooth lines and an even smoother ride that gets up to 20 miles to the gallon, is the motorhome for you
Purchasing information, available online: http://www.altmans.com or call toll free 1-888-355-5900.
###