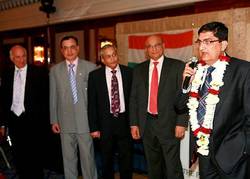 While still maintaining two distinct identities
London (PRWEB) August 21, 2008
The Pakistan, India & UK Friendship Forum (http://www.pakindiauk.com) repeat history with joint Independence Day celebrations for the second time.
The Co-Chairman Mr Ahmed welcomed the guests and said that there is no doubt in his mind that our growing friendship will inspire and persuade both governments to sit together to find ways towards peace and reconciliation of all outstanding disputes between Pakistan and India.
The Chairman Dr. Rami Ranger MBE, FRSA stressed the need for living in harmony in Britain, "When our rivalry can unwittingly damage the business and employment prospects of Indians in companies run by Pakistanis and for Pakistanis in companies run by British Indians. Those who look back cannot look forward. We must look forward to living in peace and harmony not only in Britain but throughout the world for our own good."
Mr. Mark Price, Director, Barclays Commercial, key sponsors of the event, gave plans for expansion into India and Pakistan where strong economic growth is expected.
Lord Rana drew parallels with the situation in Northern Ireland, where Loyalist and Sinn Fein, once archenemies, now work peacefully side by side for the prosperity of their people.
Baroness Verma said she knew of no family who did not have some sort of link with India and Pakistan. "Our roots are the same. We can always live in two countries but this should not stop us from being friends."
Mr. Steve Pound, MP praised the work being done by the Pakistan, India & UK forum in building bridges between two British communities to improve social cohesion.
Mr. Virendra Sharma MP urged the leaders of the Sub Continent not to fight amongst each other but instead to fight against poverty, disease and hunger in their respective countries.
Mr. Barry Gardiner MP touched on English and Scottish history when they were constantly at war with each other, "While still maintaining two distinct identities," he said, "they both remain committed to working for prosperity. Friendly rivalry is always good but to the extent which harms is unjustifiable."
Sir Michael Craig-Cooper CBE, DL, TD, Vice Lord Lieutenant of London expressed his delight to be present at a unique event when two British Communities were celebrating jointly the independence days of their respective countries thus doubling the enjoyment for all concerned.
Mr. Arif Chaudhry who founded the Friendship Forum in Pakistan after his visit to India where he was warmly received said, "Our people need bread and not bombs. We are wasting our meagre resources on weapons of mass destruction when we cannot even provide clean water or feed them"
Awards were presented to a number of key people. Ms Adeeba Malik MBE Deputy Chief Executive of QED, an organization, which works hard for equal opportunities for ethnic minorities in work environments, was one of the recipients.
Others recipients included, Mr. David Wardrop the Chairman of the United Nations Association (Westminster Branch) honoured for his role in keeping alive the memories of fallen UN peacekeepers; Mohammed Sarwar MP, the first Muslim in Parliament, for shattering the glass ceiling and fighting against racism in every shape and form; Mr. Bobby Grewal, Chairman of India Association, for his charitable work raising hundreds of thousands of pounds for research into AIDS and Cancer in Britain.
The final award went to Mrs. Muniza Bashir, mother of the late singer Nazia Hussain the Melody Queen who conquered the hearts of Indians and Pakistanis alike with her music. Muniza received the Award for the Nazia Hssain Foundation which she set up to promote Nazia's message of love, peace and harmony across the Indian subcontinent. Nazia's son accepted the award.
The entertainment was provided by Bollywood Flash Dancers and Shakie 'n' Sham of B4U TV Network who also sang a special song on friendship, especially written for the event. The guests danced till late to the music of DJ Ritzy.
About the Forum:
The Pakistan India & UK Friendship Forum (http://www.pakindiauk.com) was launched on the 8th of February 2007 at the House of Commons by British Parliamentarians. The Forum believes that people to people contact is the way forward. The founding patrons are leaders in their field and represent advancement of progress in the community. The Forum represents a reflection and the feelings of a growing number of people from both India and Pakistan. The aim of the Forum is to bring about direct contact between people in order to promote friendship and harmony between these two large British communities who are settled here in considerable numbers. If these two communities start to cooperate with each other, their relationship will be felt in every walk of British life. They will also leave a legacy for the next generation, which they will be rightly proud of.
###