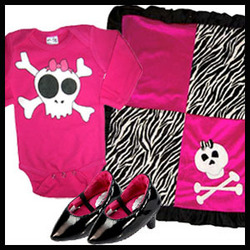 but we are seeing a huge expansion of this thought for fall.
Chicago, IL (PRWEB) August 25, 2008
Babies sure are sweet, but their wardrobes don't always have to be! The style visionaries at Psychobabyonline.com are bringing their cool, crazy 'tudes to their cool baby clothes, and there's not a duck or bunny in sight!
"The main ideas behind our fall collection were color, comfort and a spirit of fun," says co-owner Lisa Starbuck. She continues, "As two Moms, we know that comfort and practicality are key, but we also know that it is fun to choose special clothes for your baby, or to delight your best friend at her baby shower with an outfit she would totally love." Fall fashion trends include Rock and Retro Baby Clothes, Appaman's first Denim series, Mom's Favorite Picks, and new Great Gift Ideas from the Present Posse!
Cool Rock and Roll Baby Clothes: "Rock and roll clothes and tees have always been a favorite for babies here at Psycho Baby," says co-owner Marlo Hoffman, "but we are seeing a huge expansion of this thought for fall." Kingsley's boys' wear is bringing the new wave of babes a modern take on 80's and 90's sensibilities. Me in Mind has introduced packs of cool rocker socks for little ones that'll have their tootsies tappin'! Rock n roll favorites have all added to their repertoires for fall. Kaos has introduced hip newborn baby sacks that are perfect for those times of peace, love and naps. Rowdy Sprout's thermal-sleeve dresses bring an update to classic rock, while Sourpuss' new Run-DMC tee and Girly Skull Diaper Bag keep little ones (to quote the AC/DC that adorns one of their onesies) "Back In Black!"
Gettin' Groovy With Retro Baby Tees: Retro images are making a big comeback for fall, bringing delight to little ones, and reminding hip parents of their own youth. "Everyone who sees Dr. Seuss' new Apparel line talks about which book was their favorite growing up, and we see that with all our Retro Tees and Toys, like Holgate. They are classics, and they open up a way to share memories between parents, siblings and even the littlest ones- while being totally fun at the same time!" says Hoffman. New favorites for babies that will bring a spark of recognition to all parents are Junk Food's tee shirt collection which boasts Star Wars, the "Little Miss" Line and the Smurfs, (as well as other retro choices) and Signature's line of groovy rock tees.
Appaman's New Baby Denim Line Has Arrived: To add to the giant success Appaman has attained from bringing a lil 'street cred' to hip graphic tees, the Fall/Winter season introduces their new Denim line! Made with the same spirit that fuels their cool t-shirt line, Appaman's baby denim gives new meaning to "good jean structure!" "We love Appaman's fresh perspective, and we are thrilled to be carrying the first season of their denim," says Starbuck. "The railroad and dark denim mini skirts, straight-leg, and boot cut jeans for babies are totally hip, but include waist-adjusters that make them totally practical as well!"
Mom Favorites Cotton Caboodle and the Psycho Baby Brand: Fans of Psychobabyonline have cast their votes for Cotton Caboodle and the Psycho Baby brand! Cotton Caboodle's line is a style dream of mix and match fashion separates that blend easily into a little one's wardrobe, and their new Baseball Raglan and Cord Jumper and Coat have everyone on cloud nine. Says Starbuck, "Cotton Caboodle is a fave because it looks great, is durable, and suitable for every occasion in a little baby's life. Their new jewel-toned tees, dresses, pants and jackets have caught the eye of every Mom and Dad because they are just beautiful in their simplicity."
Psychobabyonline believes in hip simplicity, which is why their graphic t-shirt line, the Psycho Baby Brand, has such a hold on clients of that cool, crazy kids' stuff. "Our tee shirt line has cool graphics and jokes like 'Mommy Needs A Latte' that we are thrilled make everyone in the family so happy, even after an early wake-up call!" says Hoffman. Classics like 'Chick Magnet,' 'I'm A Keeper' and 'The Man' sit next to funny onesies such as 'I Look Like The Milkman,' and 'Mommy and Daddy + Martini = Me' that have new parents doubled over in laughter!
Great Gift Ideas From The Present Posse: "A Great Gift is thoughtful, and that is the basis of our super-rockin' and themed Great Gifts section," says Hoffman. Recent additions from the Present Posse are Knit Cashmere Hoodies and Blankets from Amber Hagen, funky tees and rompers from Paul Frank, and new 'baby high heels' from Heelarious that are sure to complete any young baby's "look!" "The joy of Great Gifts is that the Posse has laid out cool stuff by theme, so you can grab a cool t-shirt or piece of clothing and work from there, adding a toy, book, or accessory that makes a wonderful box of fun when you're done," says Hoffman. All the new cool baby clothes for this fashionable fall make gifting easy and fun- you'll just wish you could fit into these choices yourself!
# # #