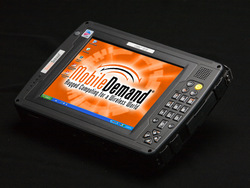 MobileDemand is proud to represent Iowa and be the fastest growing business from our state
Cedar Rapids, IA (PRWEB) August 20, 2008
To cap a year of recognition and accomplishments, MobileDemand, a rugged Tablet PC manufacturer based in Iowa, has been named to the Inc. 500 list, a ranking of the fastest growing private companies in the United States. MobileDemand placed 148 on the 2008 Inc. 500 list with a three-year growth rate of more than 1,500 percent. In the computers and electronics category, MobileDemand was ranked as the third fastest growing company in America. It was also recognized as the top firm in growth from Iowa.
"We are extremely pleased to have placed so high on the list," said Matt Miller, President of MobileDemand. "It is a testament to our business model. Our advanced technology, combined with customer-focused engineering and aggressive marketing, fuels MobileDemand's growth."
MobileDemand has achieved success because its unique product, the xTablet, rugged Tablet PC, fulfills a need in multiple vertical markets by empowering field service and mobile blue-collar workers with full screen computers and the industry's highest processor performance. MobileDemand is established in numerous verticals, including manufacturing and distribution, warehousing, transportation and logistics, retail, government/defense, EMS and agriculture. Anheuser-Busch, General Motors, Walt Disney World Parks & Resorts, Pioneer Hybrid and 3M are just a few of MobileDemand's satisfied customers.
MobileDemand focuses on the "whole system" approach to manufacturing. With an experienced engineering arm, MobileDemand developed a wide range of options for rugged mobile computer solutions along with superior customer service.
MobileDemand will be featured in the September issue of Inc. magazine. The Inc. 500 list represents the top 10 percent of the Inc. 5000 list, which is a ranking of United States-based, privately held, for profit and independent companies according to percentage revenue growth for the last three years. MobileDemand joins a select group of companies identified by Inc. magazine for this award, a symbol of American business ingenuity and ambition.
"MobileDemand is proud to represent Iowa and be the fastest growing business from our state," said Miller.
Recently MobileDemand and Matt have garnered multiple awards. In 2008, the Corridor Business Journal named Miller the Entrepreneur of the Year, and the Iowa Technology Association named MobileDemand Technology Company of the Year. The company also obtained Microsoft's elite Gold Certified Partner status - an honor only the top three percent of all Microsoft partners achieves.
For more information about MobileDemand, please visit http://www.RuggedTabletPC.com or contact Jim Thebeau at jthebeau@hrb-ideas.com or (319) 360-0618.
For more Tablet PC-related news, visit MobileDemand's new Tablet PC blog.
MobileDemand offers rugged Tablet PCs for a variety of vertical industries that provide a lower total cost of ownership over non-rugged computers; supported by actual customer experience and factual independent research. MobileDemand elevates itself by uniquely offering the combination of a total complement of mounts and accessories, flexibility built into their systems, superior and personalized customer service, and customer focused engineering - all to help customers best satisfy their mobile computing needs. Additional information is available on the Internet at the MobileDemand Web site.
MobileDemand, xTablet, and xView are registered trademarks or trademarks of MobileDemand, LC. All other brands, products, or service names are or may be trademarks of their respective owners.
###