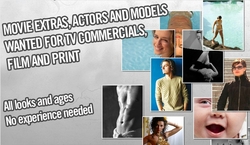 Our members are getting work. Just read the Blogs on our website at talent6.com and see for yourself
San Francisco, CA (PRWEB) August 22, 2008
San Francisco based Entertainment Company, Talent6 has seen a dramatic increase in new members seeking to find work as movie extras, dancers, models and actors in hit TV shows like, "America's Got Talent", "Prison Break", LOST" and thousands of independent productions. Talent6 post casting calls all across the country for TV shows, movies, music, dance, theater and reality TV. "With the release of our new web site at http://www.talent6.com, we've seen a dramatic increase in our membership. People are just looking for some alternative ways to make some extra cash." says, John T. Williams, Marketing Director at Talent6.
The new Talent6 web site is not just a place to search for casting calls; it's also a mini social network of like-minded people looking to break into the entertainment industry. Members communicate with one another to offer advice, refer entertainment jobs or just offer encouragement. Members can also create their own blogs, upload videos and audio recordings, create professional looking portfolios and submit to casting calls. One of the most interesting Talent6 features is casting call text alerts. Members are automatically notified via a text alert sent to their mobile phone when a new casting call is posted in their area and customize based on gender, location, age and category. Talent6 has also produced a series of video interviews with entertainment industry professionals offering real world advice and experience.
It once seemed impossible to break into the movies or Television, but getting started as an extra has opened the door for aspiring actors, models, dancers and even musicians. "Our members are getting work. Just read the Blogs on our website at talent6.com and see for yourself" says Dave Parchen, Sales Manager at Talent6. Forget about mowing lawns, baby-sitting or washing cars this summer to try and make that extra cash, become a movie star instead.
###