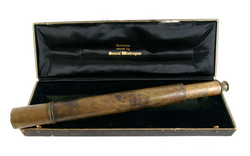 Chicago (PRWEB) August 22, 2008
Leslie Hindman Auctioneers, one of the nation's leading fine art auctioneers, is pleased to announce the sale of a telescope believed to have belonged to George Washington. The telescope has been consigned by the renowned Illinois Institute of Technology. Washington possessed many telescopes during his lifetime, having eleven in his collection at the time of his death in December of 1799. Several of these spyglasses are now housed in the Smithsonian, Mount Vernon and other distinguished institutions.
This particular telescope, engraved with the markings 'Dolland London' and 'G. Washington Mount Vernon,' was sold at auction by the American Art Association in New York on February 7, 1920. The auction featured a number of items once owned by George Washington - including cut-glass decanters, clothing and buttons - from the collection of William Lanier Washington. A descendent of the first President, William Lanier Washington signed an affidavit before the sale declaring the telescope, and other items included in the sale, did indeed belong to his famous relative. The telescope was purchased by George D. Smith, a book dealer in New York City who would often buy for prestigious clients across the country. The auction caught the attention of the New York Times, who covered the story the following day, discussing the sale of the purported Washington telescope and other items of note.
The telescope is estimated to sell for at least $10,000 in the October 5-6 Fine Furniture and Decorative Arts auction. The telescope is accompanied by a silk-lined Moroccan leather case inscribed 'Telescope owned by George Washington,' that was also part of the 1920 sale.
Leslie Hindman Auctioneers' thirty years of experience and expertise has earned the auction house an international reputation for achieving record prices. The firm specializes in post-war and contemporary art; Old Master; 19th and 20th century American and European paintings, prints, drawings, and sculpture; furniture and decorative arts; fine jewelry and timepieces; vintage couture and accessories; and fine books and manuscripts.
Additional images available upon request
###