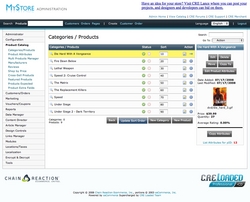 Version 6.3 is a milestone release for CRE
Atlanta, GA (PRWEB) August 21, 2008
Chain Reaction Ecommerce, Inc. (CRE), a leading provider of open source ecommerce technology and services, today announced a new version of its popular ecommerce shopping cart software, CRE Loaded. CRE Loaded 6.3 Standard and Professional versions are now available for download at http://www.creloaded.com.
CRE Loaded 6.3 adds new features and updates to its open source ecommerce system, including a redesigned administrative interface that promises to make it easier for all users to manage their online storefronts and shopping cart systems. The administrative interface has been redesigned for easier navigation, as well as improved product and page creation.
"Version 6.3 is a milestone release for CRE," said Michael Valverde, CEO of Chain Reaction Ecommerce. "This release features the most significant round of updates and enhancements - driven by ongoing feedback from our large install base and open source community. We believe customers will be very excited about the new features and expanded capabilities found in CRE Loaded 6.3."
New features and enhancements found in version CRE Loaded 6.3 include the following (some features are limited to the Professional Edition):
Content Director:
Content Director adds a powerful content management system to CRE Loaded 6.3, enabling store owners to dramatically improve the look and feel of their ecommerce storefront and content pages, and allowing store owners to add and manage rich content. The advanced page-management features in Content Director make it possible for users to build an entire Web store in one tool, with easy menus and full-search capabilities. Content Director also helps store owners to improve page rankings with integrated search engine optimization features.
SEO URL 4.1:
The SEO URL feature of CRE Loaded 6.3 optimizes your URLs for improved indexing by all major search engines. SEO URL automatically places important keywords - derived from your category, product database and other content - directly into your URLs. Management of keywords at the URL level is a significant factor affecting the optimization and ranking of your pages within search engines.
One-Page Checkout:
One-Page Checkout is one of the most-requested features from existing customers to be addressed in version 6.3. One-Page Checkout combines all checkout elements into a single-page, giving your customers added simplicity and ease-of-use - a factor also shown to significantly reduce shopping cart abandonment rates.
Abandoned Cart Recovery:
The CRE Loaded Recover Abandoned Carts Module finds abandoned CRE Loaded shopping carts and creates a list of items and the customers who were shopping for them. You can generate automatic emails to abandons, asking them for feedback about why they didn't complete the process, or offering them an incentive to complete the purchase and reminding them of the item(s) they didn't purchase. Abandoned Cart Recovery includes a reporting feature to report on data, such as number of abandoned carts converted into sales.
RCI Expansion:
Runtime Code Inclusion (RCI) allows custom modifications and additions to be used with the base program code, with less likelihood of the customizations being overwritten by future patches/updates to the CRE Loaded core code. In version 6.3 the RCI functionality is expanded further than ever before.
These are only a few of the features and improvements found in CRE Loaded 6.3, for a detailed list of CRE Loaded 6.3 features, please read the release notes here.
"You can't just put up an online store and hope for the best and expect to be successful," adds Valverde. "That's part of the reason we added enhanced content management and search engine optimization features to our latest version. We want to empower customers to manage their online stores for high-performance, providing them with all the tools and guidance they need to be successful."
About Chain Reaction Ecommerce:
Chain Reaction Ecommerce, Inc. (CRE) is a leading provider of open source ecommerce software and services for merchants, and a steward of the CRE ecommerce ecosystem. The CRE Loaded product family is supported by a growing open source community - CRE Share - of more than 12,000 developers, designers, Web hosting providers, online merchants, Internet retailers and business partners. CRE Share provides a unique environment for merchants to access a wide variety of resources designed to help them succeed with their online stores, and to share their experiences, success and lessons learned with other online merchants. Through its CRE Lance network of ecommerce design, development and programming experts, CRE provides customers with access to expert resources to create and manage their online stores.
CRE ecommerce products include the popular CRE Loaded Professional and CRE Loaded Professional B2B ecommerce software, hosted PCI compliant ecommerce environments, as well as powerful add-on modules and systems, technical support, and success services for online merchants. CRE currently powers more than 175,000 online stores around the world. For more information on CRE, please visit creloaded.com or call 800.609.2141.
###