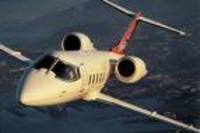 Long Beach, CA (PRWEB) August 22, 2008
Los Angeles based private jet firm Global Exec Aviation today announced the addition of a Lear 60 today and Gulfstream III to their expanding fleet of luxury jet aircraft. The Lear 60 with less than 100 hours since new offers clientele a mid-sized aircraft of comfort with seating for 7 passengers, cabin entertainment, airshow, galley and lavatory. The aircraft is priced at an introductory special rate for new and established clients.
Global Exec's large jet fleet is further complemented with the addition of a Gulfstream III with seating for 11 passengers, luxury entertainment system, full galley and the spacious lavatory. This aircraft was recently refurbished to include a new exterior paint and is priced for international travel.
Global Exec Aviation also recently opened a satellite office in Carlsbad, CA (CRQ) located at the Premier Jet Center for marketing and client support for a newly managed Gulfstream IV. The company has expanded operations and sales by staffing their sales and operations office 7 days a week with customer service support as the company expands.
Global Exec Aviation LLC is a FAA approved air carrier operating Gulfstream, Falcon, Lear and Citation jets. The company provides aircraft charter, aircraft management, aircraft sales and consulting services. For more information on Global Exec Aviation or to view picture and specifications of our new aircraft, please visit our website at: http://www.geajets.com or blog at: http://geajets.blogspot.com. Customer service and charter sales are available 24/7 by calling +562.424.0663.
###