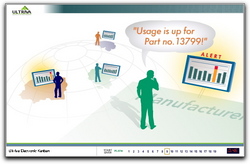 Manufacturing needs to be where the market is
Cupertino, Calif. (Vocus) August 21, 2008
Ultriva Inc., the company that designs software and solutions to enable 'Lean Business' through customer-centered manufacturing, has been featured on a two-part Better Process podcast. The daily podcast is aimed at CEOs and senior executives at small and midsize manufacturing firms, and also attracts decision makers in the engineering, manufacturing and wider supply chain functions.
In part one, CEO Narayan Laksham, and show host Ken Rayment discuss the definition of "lean" and how to apply the concept beyond the plant by engaging customers and external suppliers. By doing so, manufacturers can quickly transition to a manufacturing model that results in reduction of inventory, elimination of stock outs and increase in customer satisfaction.
Laksham also provides an example of a major heating and air conditioning company that was having problems with its supply chain: experiencing costly manufacturing shutdowns and interruptions, and resulting in a loss of productivity. After deploying Ultriva's electronic Kanban software, the company is now on target to save $2.5 million dollars in the first year of deployment. He also describes how a lean solution can complement existing ERP or MRP system.
In part two, on the future of American manufacturing, Laksham and Rayment discuss how off-shoring can be more expensive than manufacturing in the U.S. when the additional costs associated with transportation, bigger lot sizes and additional inventory to cover the long lead times are factored in.
"Manufacturing needs to be where the market is," emphasizes Laksham. "The primary reason for off-shoring is to save labor costs which in reality are a small component of the total manufacturing costs. Higher labor costs in the U.S. can be easily offset by lower inventory, quicker customer response and higher quality."
Laksham also outlines the difference between manufacturing in the United States versus in other countries. U.S. manufacturers see the shop floor as a cost center whereas executives in other countries view it as a value center led by energetic, forward-thinking young engineers.
Useful links:

About Better Process Podcast:
The Better Process Podcast is the voice of the small and mid-sized manufacturing firm. Based in Colorado and across the United States via Skype, the Better Process Podcast interviews small and mid-sized manufacturing companies, and the companies that service these companies. Shows are free to download from iTunes (search for Better Process Podcast in iTunes music store) and are available most business days. More information on the show can be found at http://www.BetterProcess.com.
About Ultriva:
Ultriva Inc. designs lean manufacturing software and solutions that drive and execute lean processes across the supply chain, from suppliers to customers. Ultriva's flagship product, Ultriva Electronic Kanban, eliminates stock-outs while reducing inventory levels up to 75 percent. Ultriva Lean Scheduling complements demand-driven replenishment strategies by optimizing production schedules in real time around the most variable customer demand. Ultriva Supplier Replenishment extends the replenishment capabilities of Kanban to include schedule-based replenishment, discrete POs, min/max, consignment and VMI (vendor-managed inventory) replenishment methods. Ultriva's products are in use in more than 100 plants worldwide, incorporating more than 4,000 suppliers, transacting over one billion dollars of inventory and reducing manufacturing costs for industry leaders such as AGCO, Emerson, Ingersoll-Rand, McKesson, Rexnord, and Timken.
Contact:
Tim Cox | ZingPR
(650) 369-7784
tim @ zingpr.com
###