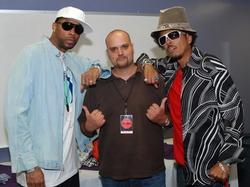 We're both honored and excited to be partnered with the best in digital distribution. IRIS and Jake Records will make an awesome team
Seattle, WA (PRWEB) August 21, 2008
Jake Records , a Seattle-based Independent Record label, today announced the signing of a long-term digital distribution agreement with IRIS Distribution. The deal increases both the visibility and global distribution of releases from the label and partners Jake Records with all of the leading cell phone and digital music stores in the world. Jake Records music will begin appearing in new online stores over the next few weeks. The label expects a significant boost in revenues and overall business as a result of the broad improvements in artist and project visibility.
"We're both honored and excited to be partnered with the best in digital distribution. IRIS and Jake Records will make an awesome team," said Jake Records Founder and CEO Scott Thomas. "Their team has indicated a steadfast belief in what we're trying to do here, and together I can only tell the world to expect great things," Thomas added.
IRIS Distribution is also very excited about the relationship. "A fast growing label like Jake Records is the perfect fit for us," said IRIS Distribution Chief Marketing Officer, Bryn Boughton. "They support both ground-breaking, established artists like Digital Underground as well as emerging acts like Jiggy and The EXBox Boys which enables us to really get creative with our marketing efforts. We're very excited to welcome Jake to the IRIS family."
Jake Records plans to utilize the new relationship to continue building and growing the company. "This partnership with IRIS goes a long way to prove that our mission is not only the right one, but one that others can respect and get behind. Jake Records is clearly all about great music and great marketing," said the label's VP/Artist Relations, Dan Diaz. "We do things differently than major labels, and most independents for that matter. We take bigger chances, and we're finding and attracting better talent as a result. IRIS will step up our game a few more notches and make all of this that much bigger, better and brighter," he added.
About Jake Records: Jake Records is an independent record label, founded in 2008 to bring great music to the world. Headquartered in Seattle, WA and founded by new media and marketing innovator Scott Thomas, the label boasts an already impressive catalog of artists including multi-platinum selling Hip Hop legends Digital Underground, Chicago-based Draztic, and Jiggy.
The company's web site is http://www.jakerecords.com
About IRIS Distribution: Founded in 2003, IRIS has emerged as a leader in the digital distribution and marketing of prominent independent music catalogs. IRIS provides a comprehensive suite of technical, marketing, and legal services, helping clients navigate the ever-changing digital marketplace.
IRIS expanded their services in 2007 with the launch of dedicated marketing arm, BlinkerActive. Specializing in brand building, BlinkerActive's expert team of marketing advocates employ the latest viral marketing and innovative PR tactics using comprehensive, custom-designed campaigns. With a unique, active marketing approach and an unparalleled dedication to customer service, IRIS and BlinkerActive continue to support an impressive lineup of record labels, established artists, and forward-thinking brands.
IRIS currently represents a select list of prominent labels and artists including Big Dada, Burning Spear, Chemikal Underground, Duck Down Records, Gemini Sun, Jake Records, K Records, Kranky, Le Tigre, Lou Reed, Megaforce, NinjaTune, Palmetto Records, Projekt, SCION/Toyota, and She Wants Revenge.
IRIS delivers content to over 450 digital outlets including Amazon MP3, Apple's iTunes Store, Beatport, eMusic, Kompakt MP3, Last.FM, Napster 2.0, Real/ Rhapsody and We7; mobile channels such as AT&T, Boost, Cingular, GroupieTunes, Jamster, mSpot, MobileStreams, Sprint, Telus and T-Mobile; as well as video outlets including Apple's iTunes Store, Gotuit Media, and Ruckus Networks.
BlinkerActive boasts a diverse client list including Scion/Toyota (Ghostface Killah, 45 King), Megaforce (Bad Brains, Dressy Bessy), Ninja Tune (Ghislain Portier), Chandon, Surfdog Records (Dave Stewart), Lawson Rollins, FiveOne Records, Chemikal Underground (Mogwai) and Electrolux.
IRIS is based in San Francisco and New York City.
http://www.irisdistribution.com http://www.blinkeractive.com
Press Contacts:
Dan Diaz
Jake Records
direct: 209-341-9213
dan.diaz @ jakerecords.com
Bryn Boughton
IRIS Distribution
office: 415-495-1545
Bryn @ IRISDistribution.com
# # #