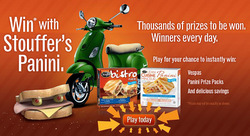 Stouffer's Panini, in the microwave, is the greatest sandwich innovation since sliced bread
Canada (Vocus) August 21, 2008
With less than two weeks left, Canadians still have hundreds of opportunities to win big with the Stouffer's Panini Online Instant Win Contest at Stouffers-Panini.ca
Stouffers Panini plans to give away over 3,000 PRIZES by the time the contest finishes on September 2, 2008 – less than two weeks from now. Prizes are awarded instantly and include 17 VESPA LX50 scooters. Forty Panini Prize Packs are given away every day of the contest.
"Stouffer's Panini, in the microwave, is the greatest sandwich innovation since sliced bread," says brand manager Michael Embir of Nestle Canada. "Picture yourself enjoying one of our eight hot and crunchy Panini sandwiches (Lean Cuisine & Bistro)…then picture yourself scooting around the city on a hot new Vespa!"
Anyone who is a legal resident of Canada can play and it's easy to do.
Simply visit Stouffers-Panini.ca to enter. Submissions will only be accepted until September 2, 2008, so visit today for a chance to win instantly.
About Nestle Canada:
Nestle manufactures some of the world's most recognized and trusted foods and beverages such as STOUFFER'S, LEAN CUSINE, NESCAFE, NESQUIK, GOOD START, POWERBAR, HAAGEN-DAZS, Nestle DRUMSTICK, TURTLES, KIT KAT, AERO AND SMARTIES. Nestle Canada employs approximately 3,500 people in 16 facilities, including manufacturing sites, sales offices and distribution centres across the country.
###