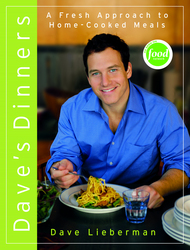 New York, NY (PRWEB) August 26, 2008
One lucky person will win a chance to share the stovetop with celebrity chef Dave Lieberman thanks to Tools of the Trade®, Macy's exclusive cookware brand. The winner of the contest will receive a trip for two to Minneapolis to cook side-by-side with author and television star Lieberman at the Mall of America on Oct.11, 2008. Fans and food lovers can enter online at http://www.macys.com/tools.
Lieberman is the host of The Food Network's Dave Does and Good Deal with Dave Lieberman, which teaches cooks at all levels to create gourmet meals on a fast-food budget. He is a personal chef to sports and entertainment celebrities and the author of two cookbooks, Young and Hungry and Dave's Dinners.
The grand prize includes a 14-piece set of Tools of the Trade Belgique Stainless Steel Cookware, the opportunity to cook with Dave at the event, brunch with Dave for the winner and a guest, an autographed copy of Dave's Dinners, a $200 Macy's gift card, subscriptions to six Edible Communities magazines, and airfare, accommodations and transportation for the winner and a guest.
Contestants must enter online at http://www.macys.com/tools before 11:59 p.m. EST on Sept.14, 2008. The sweepstakes is open to legal U.S. residents 18 and older. For official rules log onto http://www.macys.com/tools.
Macy's Tools of the Trade family of products includes Belgique Stainless Steel, Cookright and Basics cookware designed for discriminating home chefs. Tools of the Trade products are sold exclusively at more than 800 Macy's stores and online at http://www.macys.com/tools.
###
Contact:
Stefanie Campbell
scampbell @ northlich.com
614.573.0944