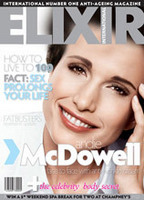 These individuals belong to one of the most affluent generations in history and are willing and able to pay for products that provide anti-aging benefits.
London (PRWEB) August 21, 2008
Elixir Press Ltd, a wholly-owned subsidiary of Elite Publishing Ltd, London, today announced the launch of ELIXIR International, the world's first quarterly super glossy consumer magazine, totally focused on the booming market in anti-aging services and products, (currently estimated at more than US $56 billion worldwide (£29.7bn) -Source: FIND/SVP).
The 200-page perfect bound quarterly will go on sale in the UK (W H Smiths, Borders, Tesco, independent newsagents) and internationally in October with a cover price of $7 (£3.80) and an initial print run of 100,000 copies. It will also be distributed free to spas, cruise ships, luxury hotels, gyms, airport business lounges, on private charter jets and international sales through on-line subscription.
The paper quality and size of the magazine will be exactly the same as that of Vogue magazine. ELIXIR International will also be published online to meet the demand of both internet readers and advertisers.
Publisher Oskar Keysell said: "Today's consumers want to know about the latest products and the science behind them so we will meet their needs with intelligent and sophisticated news and features on anti-ageing products and services from around the globe. There is absolutely no other magazine on the market like this. ELIXIR International is about a sophisticated anti-ageing lifestyle which includes taking preventative health protocols to stay healthy for longer, with the added bonus that you look better too. But this lifestyle may also be reflected by your home, its décor and even the type of car that your drive and the way you dress."
If it's hot, new and will improve your lifespan and if it's happening in Beverly Hills, New York, London, Paris, Rome, Shanghai or anywhere else -- you will find out about it first in ELIXIR International. Each issue will contain regular features on anti-ageing cosmetics, nutraceuticals, cosmeceuticals, diet and exercise, cosmetic surgery, cosmetic dentistry and spas. It will also look at how readers can fight back against the diseases of ageing -- obesity, diabetes, Alzheimer's, cardiovascular disease, stroke etc with the latest medical anti-ageing and rejuvenation therapies.
ELIXIR International is endorsed by the world's leading authorities on anti-ageing. Our medical panel includes Dr Bob Goldman, MD, Chairman American Academy of Anti-Aging Medicine, the world's largest professional organization dedicated to advancing research into this area; Dr Javier de Benito, one of the world's leading cosmetic surgeons and General Director of the Instituto de Benito Plastic & Aesthetic Surgery in Barcelona and Dr Nicholas Perricone, the New York dermatologist and author and one of the world's leading experts on skin health.
Regular contributors will include David Kirsch, the New York fitness guru and owner of the Madison Square Gardens Fitness Club and supermodel body trainer -- his clients include Heidi Klum and Linda Evangelista as well as the lingerie models for Victoria's Secrets and Beverly Hills cosmetic surgeon Raj Chopra.
ELIXIR International's target demographic, is men and women, aged 28+ who share an interest in living healthier for longer and want to purchase the products and services that can help them do so and includes the baby-boomers.
"These individuals belong to one of the most affluent generations in history and are willing and able to pay for products that provide anti-aging benefits." (Freedonia market research)
The publication of ELIXIR International follows the successful pilot launch last year of the monthly title ELIXIR and http://www.elixirnews.com an online magazine devoted to rejuvenation and anti-ageing, established four years ago. It now has 30,000 unique visitors each month and has a growing database of subscribers interested in anti-ageing products and services.
ELIXIR International joins a stable of reputed international brands from Elite including National Geographic Traveler, BUPA Parents Magazine, Le Mans official magazine and the RBS 6 Nations Official Championship Guide.
Cover images are available
Contact: Oskar Keysell -- direct telephone: + 44(0)20 7479 8861
Elixir Press Ltd
Suite D211 Macmillan House
Paddington Station
London W2 1FT, United Kingdom.
http://www.elitepublishing.co.uk
###