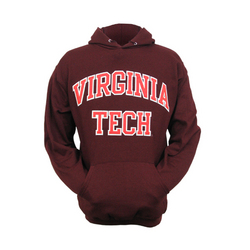 The higher-education market is clearly ready for aggressive adoption of podcasting technologies. Students regularly use supporting equipment - iPods, other brands of MP3 players, PCs, laptops, and high-speed Internet
Blacksburg, VA (PRWEB) August 23, 2008
Summer's nearly over, and it's time for Virginia Tech students to turn on their iPods again. CampusEmporium.com finds that VT students and staff are incorporating technology into their student lives by creating weekly podcasts for fellow VT students. From podcasts on student life to the Hokie sports podcast, they're ready to be downloaded to your iPod and taken with you on the way to class.
A recent survey conducted by D&M Professional found that 88% of college students would use podcasts to connect with campus life and aid in the learning process. However, the survey also showed that only 25% of schools surveyed had adequate recording equipment to create podcasts. 100% of students felt that podcasts would greatly benefit their grades, if used as a supplemental learning tool, such as Virginia Tech's recent podcasts on energy conservation.
In the article, "Survey Says: College Students Want Podcasting", Peter Papageorge, D&M Professional Director of Sales, feels that students can greatly benefit from podcasts, and more schools should utilize them.
"The higher-education market is clearly ready for aggressive adoption of podcasting technologies. Students regularly use supporting equipment - iPods, other brands of MP3 players, PCs, laptops, and high-speed Internet," says Papageorge.
Virginia Tech University is listening to student demands for podcasts and doing all they can to accommodate student requests for podcasts. The school has a webpage dedicated solely to VT podcasts, and creates new podcasts at least once a week on various aspects of VT life, from administrative news to sports and student life.
CampusEmporium.com recently unveiled their Virginia Tech blog for Virginia Tech news and information. Show Virginia Tech pride with Virginia Tech Clothing and great Virginia Tech Merchandise.
About CampusEmporium.com:
CampusEmporium.com has been in the Virginia Tech apparel and gifts business for years. The family-owned business has a shop in Blacksburg Virginia, just a block away from the beautiful Virginia Tech campus. CampusEmporium carries all things Virginia Tech Hokies, from Virginia Tech Jerseys to Virginia Tech Hats. Visit CampusEmporium.com for your Hokies gear and merchandise needs.
###