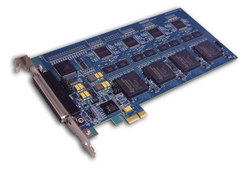 Portland, OR (PRWEB) August 22, 2008
Sensoray announced the newest addition to their extensive line of OEM video capture cards with the release of their Model 817, PCI-Express JPEG frame grabber. The 817 is a PCI Express x1 card that captures 16 separate channels of compressed JPEG or uncompressed bitmaps at 480 total frames per second, or 30 frames per second on all 16 channels simultaneously. The board provides complete capture flexibility, all capture parameters can be set independently for each capture channel. The 817 supports x1 or wider (x4, x8, x16) PCI Express slots
An internal crosspoint 16 X 4 analog crosspoint video switch is used to route any combination of four input channels to external video monitors. Each of the four video outputs can be individually turned on or off allowing the outputs of multiple 817's to the same monitor.
Model 817 contains four identical video capture and processing units (VCPU), each of which handles 4 input video channels. Each VCPU employs a 4-channel video decoder to convert analog video into digital, and a powerful digital signal processor (DSP) to capture digitized video and handle various processing tasks: frame decimation, caption overlay, JPEG compression, status reporting, etc.
An optional single line text caption of up to 80 characters can be overlaid on the captured image before compression.
Sensoray provides an SDK for the 817 that includes drivers and demo applications for both Windows and Linux operating systems.
Pricing
OEM quantity pricing for the 817 is $705. Lower quantity pricing is also available.
About Sensoray
Sensoray designs and manufactures OEM electronics for the video imaging industry specializing in security and medical video capture. They offer drivers for Windows or Linux, and live technical support, Sensoray is committed to helping ensure easy and rapid development. For more information, or to speak to an engineer regarding a custom design, visit http://www.sensoray.com, or email support @ sensoray.com.
###