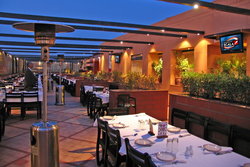 The Scala digital advertising network has facilitated the restaurant's growth, allowing us to present a modern guest experience and improve our quality standards while increasing our revenue
Exton, PA (PRWEB) August 25, 2008
Scala, the leading provider of end-to-end digital signage software, today announced that Bar-B-Q Tonight Restaurant is the first to deploy a Scala digital signage advertising network in Pakistan.
The Bar-B-Q Tonight Restaurant was opened in October 1988 with a seating capacity of 150 guests. Since then, and due to its continued dedication to food quality, service, and the environment the restaurant has become the most popular family eatery in Karachi City; making it well known throughout major cities in Pakistan. With the addition of two floors and a roof-top BBQ area, the restaurant now has seating capacity for 1500 patrons.
The overwhelming reason for the continued growth of the restaurant is its reputation for providing high quality food and a modern guest experience. Prior to the BBQ Digital Advertising Network, Bar-B-Q Restaurant experimented with LCD screens running local Cable TV channels. Patrons were not impressed with the content and the deployment failed.
The challenge was to design a digital advertising network attractive to the patrons, and both capable of generating revenue from brand advertising and informing patrons about products and services available at the Bar-B-Q Restaurant. The solution was a BBQ Digital Advertising Network with appealing 720p content.
The BBQ Digital Advertising Network was conceived with the help of Faith Media Services, a Scala Certified Partner and a newly formed division of Faith Associates, located in Karachi, Pakistan.
The BBQ Digital Advertising Network facilitates advertising slots for brand ads, "Powered by Scala" and FMS ads, and promotions for restaurant food items and services.
Local promotions for the restaurant include favorite dishes of the day, daily restaurant promotions, local news and weather, and restaurant services including free home delivery and catering services. The remaining slots are offered to brand advertisers, facilitating exposure of their products and services to a huge audience of more than 75,000 patrons per month.
The BBQ Digital Advertising Network is first seen at the desk where scheduled reservations are displayed and entertainment news is displayed contributing to ease the perceived waiting time until the patrons can be seated.
Strategically located throughout the restaurant are twenty 32" Phillips High Bright LCDs and 22" Viewsonic LCD displays, all running high-definition 720p content. The screens are connected together with more than 2000 feet of RGB cable with 8 VGA splitters distributing the centrally managed content.
The stated goals of the digital advertising network were to provide a better guest experience, promote the restaurants products and services and generate a revenue stream from brand advertising. It became very clear and very quickly that these goals were attained.
The current deployment of twenty LCD screens covers approximately 80% of the seated patrons' area. The screens provide a video-only view of the network with no accommodation for audio; this decision was made to minimize ambient noise. Patrons are entertained and informed about food choices and promotions available in the restaurant and they are treated to news and weather for the local area.
Patron feedback has been very positive and the restaurant has experienced a revenue increase between 5 and 20% on promoted products to date. Expectations are even higher as the restaurant prepares to expand from 1500 seats to 1800 seats, expanding the BBQ Digital Advertising Network to accommodate the growth.
Brand advertisers find the system to be a great opportunity due to the restaurant's popular appeal. With 75,000 visitors per month, the restaurant represents an excellent out-of-home, captive-audience advertising location.
"The Scala digital advertising network has facilitated the restaurant's growth, allowing us to present a modern guest experience and improve our quality standards while increasing our revenue," says Mr. Tahir Ahmed of Bar-B-Q Tonight.
"We applaud Bar-B-Q Tonight for its visionary deployment of the first digital advertising network for a restaurant environment in Pakistan," says Omar Abdul Malik of Faith Media Services.
About Faith Media Services
A newly formed division of Faith Associates for digital signage and media publishing.
The key objectives of FMS are as under:
-To source quality products and market at affordable prices.
-To launch innovative products for quality improvement, standardization and high degree of productivity.
-To provide marketing consultancy, media publishing and IT Solutions services.
-To provide comprehensive solutions for digital signage powered by SCALA software.
-To create reputation as a reliable, efficient and a friendly business organization in and outside of Pakistan. More information is available at http://www.faith-associates.com.
About Scala
Scala is a leading global provider of digital signage and advertising management solutions. By combining digital and traditional signage systems, Scala has become the world's first connected signage company, offering the leading platform for content creation, management and distribution in digital signage networks, and the first unified platform for advertising management of both traditional and digital signage networks. The company's solutions are used in retail, education, entertainment, government and other industries for diverse applications such as retail advertising networks, corporate communications (employee TV), traditional and digital billboards, digital menu boards, digital posters, cable TV, hotel lobby signage, gas pump toppers, outdoor advertising, interactive kiosks, etc. Scala pioneered the digital signage industry and today drives over 200,000 screens worldwide; more screens than all competitors combined. The company's digital signage customers include Rabobank, IKEA, Burger King, T-Mobile, Virgin MegaStore, EuroDisney, McDonalds, Warner Brothers, The Life Channel, Rikstoto, FuelCast, Repsol, Shell, NorgesGruppen and thousands more. Advertising management customers include CBS Outdoor, Clear Channel Outdoor, Magic Media, Reagan, Adams Outdoor Advertising, among others. Scala is headquartered near Philadelphia, USA and has subsidiaries in Canada, Netherlands, France, Norway, Japan and also over 450 partners in more than 60 countries. More information is available at http://www.scala.com.
©2008 Scala, Inc. 350 Eagleview Blvd. Exton, PA 19341. Scala, InfoChannel, and the Exclamation Point Logo are registered trademarks of Scala, Inc. All other trademarks are the property of their respective organizations.
###