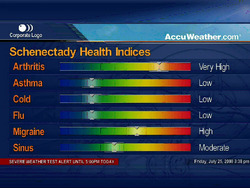 This was a very exciting project for us. Scala users can now insert great AccuWeather content into any digital signage project, quickly and easily
Exton, PA (PRWEB) August 26, 2008 - August 26, 2008
Scala®, a leading provider of end-to-end solutions for the connected signage market, today announced Scala InfoChannel 5 users will have direct access to AccuWeather.com's high-definition content for digital signage through the popular "AccuWeather.com Content for Scala InfoChannel 5."
As Scala's premier weather partner, AccuWeather.com provides HD-quality weather and news- related content that draws attention to digital signage screens. Assisting in the development and execution of the integration was Téléciné Multimedia, a multi-media graphic design company and Scala Certified Partner. Téléciné creates world-class, award-winning content for digital signage deployments, specializing in multiple languages and multi-national networks. Together, the three companies focused on creating a full suite merging innovative creativity with superior production quality.
"Nothing draws eyeballs to digital signage screens like up-to-the-minute, relevant, local weather," said Scott Homan, Meteorologist and Director of Out-of-Home Media at AccuWeather. "Now it's easier than ever to experience the audience-building benefits with this sophisticated integrated solution for the Scala platform."
AccuWeather.com's Content for Scala InfoChannel 5 is based on AccuWeather.com's library of modules and is fully flexible, allowing for branding opportunities and providing an extremely simple setup. Featuring highly localized, accurate, reliable, and quality-controlled weather forecasts for more than 2.7 million locations worldwide, AccuWeather.com provides entertaining broadcast personalities, animated Doppler radars, weather icons and unique weather indices.
"Having an integrated news and weather solution from AccuWeather provides easy access to dynamic feeds for Scala digital signage networks around the globe," says Jeff Porter, Executive Vice President for Scala.
"This was a very exciting project for us. Scala users can now insert great AccuWeather content into any digital signage project, quickly and easily," said James Fine, President of Téléciné. "Users can select from over 60 templates. You no longer need to be a programmer to give your advertisers the benefits of the huge bank of AccuWeather current, relevant and attractive data for digital signage. We designed and created the exact production tool that you wanted to have."
The newly integrated content will be featured at the upcoming Scala Connected Signage Conference, September 14-16, 2008 in Philadelphia, PA. For those interested in a sneak peak of the AccuWeather.com's content for Scala InfoChannel 5, a webinar will be held on September 4th, at 1:30PM EST. For more information, please visit http://www.accuweather.com/scala or send an email to mailto:sales @ accuweather.com.
About AccuWeather, Inc. and AccuWeather.com:
AccuWeather, The World's Weather Authority®, presents accurate, localized, branded forecasts and severe weather bulletins to over 110 million Americans each day via the Internet, mobile devices and IPTV, through the airwaves, in print and on digital signage. The 113 meteorologists at AccuWeather deliver a portfolio of customized products and services to media, business, government, and institutions, and inform millions of visitors worldwide through the free AccuWeather.com website. AccuWeather also provides content onto more than 20,000 third-party Internet sites, including CNN Interactive, ABC's owned and operated stations, The Washington Post and The New York Times. Visit http://www.accuweather.com for more information.
About Téléciné:
Established in 1986, Téléciné has been on the cutting edge of Digital Signage since the very beginning, starting with our first major installation in 1996.
Whether a client requires a completely unique in-store design for digital displays, the most creative content for those displays, or a full information system designed and installed worldwide, Téléciné has the people with the knowledge and experience to get the job done right. Téléciné has recently won international awards for its work including the Mobius Award, the Digi, POPAI and Marcom.
Téléciné has built its reputation for great Digital Signage by striving for the highest possible quality. Téléciné consistently delivers signage systems and content that meets all goals, and exceeds all expectations. More information is available at http://www.telecine.ca.
About Scala:
Scala is the leading global provider of dynamic solutions for the connected signage industry including digital signage software and advertising management software for both digital and traditional signage networks. The company's connected signage solutions are used for dynamic signage networks in retail, education, entertainment, government and other industries for diverse applications such as retail advertising networks (retail TV), corporate communications (employee TV), digital menu boards, digital posters, community access channels (cable TV), hotel lobby signage and information channels, gas pump "toppers", billboards, outdoor advertising, interactive touch-screens and kiosks, etc. Scala pioneered the connected signage industry and today remains the world's leading provider of solutions for creating digital signage networks, driving more screens than all competitors combined. The Company provides enterprise class advertising management solutions for both digital and traditional signage networks to the world's largest outdoor advertising companies including CBS Outdoor, Clear Channel Outdoor, Magic Media, Reagan, Adams Outdoor Advertising, and many more. The Company's cutting-edge digital signage platform powers thousands of digital signs around the world including the digital signage networks of Rabobank, IKEA, Burger King, T-Mobile, Virgin MegaStore, EuroDisney, McDonalds, Warner Brothers, Ericsson, The Life Channel, Rikstoto, FuelCast, Repsol, Shell, NorgesGruppen and many more. Scala is today headquartered near Philadelphia, PA and has wholly-owned subsidiaries in Canada, The Netherlands, France, Norway, and Japan with a direct presence in a number of other locations and countries. More information is available at http://www.scala.com.
©2008 Scala, Inc. 350 Eagleview Blvd. Exton, PA 19341. Scala, InfoChannel, and the Exclamation Point Logo are registered trademarks of Scala, Inc. All other trademarks are the property of their respective organizations.
###