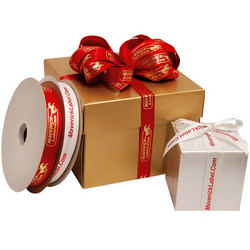 Our new custom printed ribbon product line is ideal for use on corporate gifts and packaging
Edmonds, Washington (Vocus) August 22, 2008 –
MaverickLabel.Com, leading pioneer of label products via the Internet, today announced the launch of a new product line – custom printed packaging ribbons.
"Our new custom printed ribbon product line is ideal for use on corporate gifts and packaging," said Mark Trumper, MaverickLabel.Com CEO. "Customers can get their logo and/or message printed right on the ribbon, for a personalized packaging effect. This new ribbon offering is perfect for corporate ID campaigns or for personal use or wedding or holiday gifts."
Custom ribbon printing from MaverickLabel.Com is available on 24 different ribbon colors, with choice of 19 print colors and four different ribbon materials – twill, satin acetate, double face satin, and grosgrain. The extensive material and print choices ensure MaverickLabel.Com customers have an unlimited range of printed ribbon appearance options.
The MaverickLabel.Com website makes it easy to order custom printed ribbon by offering two artwork options. Customers may upload their own text / artwork during the ordering process. Or, they may choose to use the custom online "Ribbon Text" tool, which allows customers to enter their individual text and choose from several font types, sizes, and character styles.
"We're excited about our new printed ribbon product line," Mr. Trumper added. "Consumers now have an easy and affordable way to design and order unique, personalized custom printed ribbon through the Internet."
Custom printed ribbon from MaverickLabel.Com is available in 100-yard rolls, with choice of four different ribbon widths. Customers can choose to order as few as a single roll of custom printed ribbon, or as many as needed, and all custom printed ribbon orders will be produced in 10 days or less.
Find more details about the full product offering here:
http://www.mavericklabel.com/products/custom-ribbon.php
MaverickLabel.Com offers hundreds of label products, in a secure online environment. In addition, the company has one of the most comprehensive ordering systems available, including online proofing and design online for most items. Specializes in bumper stickers, property ID labels and corporate anniversary seals.
###