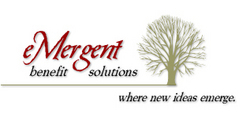 Our technology team spent the last six months working with InfoTech on the design and architecture of our solution. We choose InfoTech to be our development partner because of their demonstrated engineering and programming expertise and understanding of our business
Camden, NJ (PRWEB) August 22, 2008
eMergent Benefit Solutions ('EBS') announced today its plan to bring new technology to the employee benefits industry.
EBS is developing a proprietary Web-enabled health and welfare benefits administration software solution available to the market early next year. The software leverages more than 80 years' combined employee benefits experience of the EBS executive team to deliver "state-of-the-art" administration solutions. EBS' ability to change the old paradigm of how administration services are provided, results in a unique solution that leverages its technology, administration and consulting expertise while combining proven lean six sigma methodologies within a new proprietary benefits platform. The software will be available to benefits administrators on-demand as a Software as a Service (SaaS) solution.
"Over the years, we have seen a slow market response to address key barriers for Administrators, yet the demand and interest for a new approach continues to increase, driven by the need for efficient, low cost processes that deliver high quality solutions," explained Gretchen Winterbottom, Chief Operating Officer of EBS. "Our ability to listen to the market, envision and incorporate several innovations into our solution makes our software one of a kind."
EBS is partnering with InfoTech Solutions for Business (InfoTech) to assist in the rapid development and deployment of its proprietary software. "Our technology team spent the last six months working with InfoTech on the design and architecture of our solution. We choose InfoTech to be our development partner because of their demonstrated engineering and programming expertise and understanding of our business," said Winterbottom. Matti Kon, President of InfoTech added, "Working with the EBS team is a high-tech challenge and pleasure at the same time. EBS has been pushing the technology envelope to new standards to make sure their clients will receive the best application technology can offer. I have no doubt that it will prove itself beneficial to EBS' client base, we appreciate the opportunity to work on this project with the EBS team."
About eMergent Benefit Solutions (EBS) (http://www.emergentbenefits.com/contactUs.aspx)
eMergent Benefit Solutions is a technology services firm focused on providing Benefit Administration Solutions using Six Sigma methods to improve business processes. Our expertise is rooted in employee benefits administration and administration consulting. We provide technology solutions for benefits administrators. Our clients rely on us to challenge standard approaches to define, analyze, design, enable and sustain effective process improvements for the HR service delivery model. EBS' mission is to provide leading technologies that have a significant impact on their customers' human resources strategic goals and financial goals.
About InfoTech Solutions for Business (http://www.infotechfb.com)
InfoTech is a software house and systems integration company offering a variety of technology and business solutions. InfoTech is a Microsoft Certified Partner headquartered in Midtown Manhattan with additional locations in Minot, North Dakota.
Some of the statements made in this press release are forward-looking in nature. Actual results may differ materially from those projected in forward-looking statements. Statements in this release should be evaluated in light of this additional information.
FOR FURTHER INFORMATION PLEASE CONTACT:
Lisa M. Lange
Email: lisa.lange @ emergentbenefits.com
Tel: 1 609-707-1562
# # #