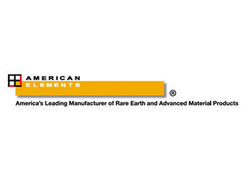 Los Angeles, CA (PRWEB) August 22, 2008
In response to increased demand for halide compounds, American Elements announced today it has increased the capacity for U.S. based manufacturing of metallic iodide and bromide compounds.
Bromide and Iodide compounds including the alkali iodides, such as sodium iodide, lithium iodide and potassium iodide, and bromides of various transition metals, such as cobalt bromide, precious metals such as silver bromide and post-transition metals such as lead bromide and germanium bromide have found new and novel applications in medical, bio-science and environmental applications.
For further technical and pricing information on American Elements' full line of advanced ceramic, electronic, glass and structural advanced material products, please contact your local American Elements distributor or American Elements U.S. corporate headquarters at (1)310-208-0551, FAX (1)310-208-0351 or mail:customerservice(at)americanelements.com. American Elements is America's leading manufacturer and supplier of rare earth and other advanced material products with distribution offices in Europe, Asia and South America.
http://www.americanelements.com
###