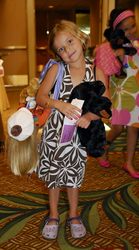 We have an incredible level of respect for the Arthritis Foundation and the organizers of the conference who are so committed to helping these families. To be able to contribute in our own way with gifts so perfectly suited to the needs of the kids was exciting and empowering
Woodland Hills, CA (Vocus) August 22, 2008
Warm Whiskers, the premiere maker of heatable animal-shaped pillow products, collaborated with the Arthritis Foundation to contribute 400 endearing "Laraby Lab" pillows to the foundation's annual Juvenile Arthritis Conference in Costa Mesa, CA. Over 400 kids afflicted with the chronic disease ranging in age from 4 to 16 received one of Warm Whisker's plush Labrador dog shaped pillows as a comforting welcome gift during the conference which serves as an empowering retreat for families challenged with juvenile arthritis.
The annual conference allows participating families to commune, learn, and share ideas and experiences related to the disease that afflicts nearly 300 thousand children in the U.S. alone. The buckwheat filled animal pillows, which can be heated in a microwave for long lasting heat therapy, serve both as a comforting companion as well as a uniquely appropriate tool to help reduce the pain and discomfort associated with arthritis.
"Warm Whiskers' generous gift to our event was so wonderful, providing the children with a friend as well as a very special therapy tool," said Katie Bitner, Director of Juvenile Arthritis Programs for the Arthritis Foundation. "So many parents commented that this was a gift that they could really use to help their children and teens not only with the emotional aspects of growing up with arthritis but with the ever-present need to ease sore joints. Those labs were met with smiles that meant so much to us and are sure to last." The Laraby Lab gift was also recognized by arthritisfriends.com as the best giveaway of the event.
"We have an incredible level of respect for the Arthritis Foundation and the organizers of the conference who are so committed to helping these families. To be able to contribute in our own way with gifts so perfectly suited to the needs of the kids was exciting and empowering," Commented Kyna Sternlight, co-owner of Warm Whiskers who personally handed out the Laraby Labs at the conference. "To be able to offer even the smallest level of comfort and relief to these kids who are forced to deal with pain at such a young age is what running your own business is really about. Participating on a personal level in this conference makes us that much more committed to making this kind of outreach a significant part of our company's mission."
About Warm Whiskers
Warm Whiskers is the maker of the finest heatable relaxation and comfort pillow products in the world, offering a comprehensive line of premium grain and herb filled body and eye pillows, neck and body wraps and cozy slippers for adults and children --- all in plush fabrics and signature animal-shapes. Warm Whiskers also features a line of ultra-relaxing spa products in both plush and luxurious silk as well as a truly unique line of pampered pet products. All are filled with aromatic, all-natural lavender and body conforming buckwheat or flaxseed (smaller items) – both grains offering long lasting therapeutic properties when heated in a microwave. They can also be chilled in the freezer to provide cool relief on a hot day.
Recognized for the powerful rejuvenating qualities of their loveable and cuddly animal-shaped pillows since the company's introduction in 2000, each and every Warm Whiskers product is designed to be restorative for both body and soul. As wellness promoting as they are endearing, they offer the time proven benefits of heat therapy, the calming aromatherapy of fresh cut Lavender and chamomile, and the ergonomically engineered shapes that closely hug the contours of the body to promote an extraordinary level of relaxation and relief from stress and tension.
As the industry leader in its category, Warm Whiskers prides itself both on the quality and functionality of their products and on being recognized by consumers and retail partners for providing exceptional customer service and attention to detail in both craftsmanship and business practices.
###