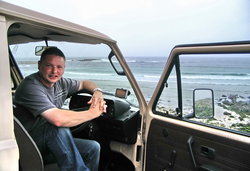 I've owned my ride for four years, and it still puts a massive smile on my face every time I drive it
(Vocus) August 22, 2008
Diehard veedubber Toby Bitten, of Balsham near Cambridge, is celebrating after winning the 2008 Top Rides competition from Herts Insurance (HIC). Toby's Ride is a superb 16v Mk2 Golf GTi, and it was easily the most popular of all the ones featured on the HIC Top Rides website during the last year.
HIC's Top Rides competition features hundreds of classic and modified cars, all entered by their owners. Toby's GTi was declared the 2008 'Ride of the Year', with more website traffic, chatter and admiring comments than any other.
"I've owned my ride for four years, and it still puts a massive smile on my face every time I drive it," said Toby, 33, an electronics engineer when he's not looking after his ride. "My mods are actually pretty minor compared to others, because the car's so good to begin with."
His prize was a Garmin Nuvi 200 satnav system. As a diehard veedubber he also owns a VW T25 camper van. Considering he's a gadget-loving VW enthusiast, Toby admits he's been slow to get his first satnav. The prize came just in time for his summer holiday, which he spent with his girlfriend in the camper down in Cornwall.
"The Garmin's amazing", he said. "On our way to Cornwall it told us to go across country and avoid the M25, but we decided to ignore it. I wish I hadn't - we were stuck for ages in a jam on the motorway. But it chose a new route once we got off the motorway and we listened to it after that, and never got lost."
Toby's ride's non-standard gear includes 15" AZEV A wheels, a full Jetex stainless exhaust system, Momo steering wheel, single headlamp VAG grille, smoked indicators and silver side/rear badges. But he's been careful to retain the original fittings. "I still have everything stashed away to put this car back to 100% standard if I want to," he says.
Toby's winning ride is a stunning example of the genre, featuring, along with the modifications, a superb recent respray. He does almost all his own maintenance and modifications, just contracting out one or two of the more complex procedures that need 'taking the car apart', such as cam belt adjustment. "My hobby is maintaining vehicles and I really love it. Plus, I know that the job's been done right."
The car is actually one of two he owns - and the seventh Golf GTi he's owned since he started driving them in 1995. "It's my summer car," he explains. "I wrap it in cotton wool during the winter and drive my backup."
Toby's been insuring all his cars with HIC for more than three years. He not only gets an excellent price, but says it's a reassurance that the company understands enthusiasts like him.
"I meet HIC staff at the shows and club meetings, and they are real enthusiasts too. So when I'm dealing with them for insurance, they know what I'm talking about and can give me the right cover. Plus, I get the discount for belonging to clubs."
Toby's 'ride and joy' can be seen on the HIC website on http://tinyurl.com/HICrides2008winner
HIC is the enthusiast's car insurer with a passion for motoring that translates into great deals on car insurance. For more information visit http://www.hertsinsurance.com or call 08451 290290.
HIC Rides 2008 competition winner Toby Bitten.doc – Aug-08
Press Enquiries:
TONI TURNER OR ALISON HAYNES AT THE PUBLICITY WORKS: (01263) 761000
Email: HIC @ publicityworks.biz
ANDY MORTON OF HIC: 08451 290290
###