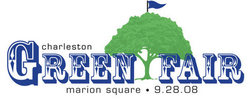 Charleston, SC (PRWEB) August 24, 2008
The largest Green Event in South Carolina will occur in Charleston on September 28, 2008 from 12:00 p.m. to 6:00 p.m. Marion Square, the popular greenspace in historic downtown Charleston, will be the site of the Charleston 2008 Green Fair, showcasing eco-friendly products, services and technologies in an environmentally responsible way. Entry is free, with live music and fun interactive activities planned for all ages. Local restaurants will showcase tasty sustainable food (taking into account environmental, health and social concerns) and tickets for the Wine and Beer Garden will be sold on site. For more information about the Green Fair, log on to charlestongreenfair.com.
The purpose of the Charleston Green Fair is to create excitement and enthusiasm for green products, services and technologies using an environmentally responsible forum of education and entertainment. Attendees will see demonstrations on alternative energy, find out about growing green initiatives and talk with citizens and business owners who are making strides in the field. The public is encouraged to bring small electronics (smaller than a toaster) to be recycled at the event. The goal is to demonstrate a waste free, environmentally responsible large event that supports local businesses and non-profit organizations promoting green initiatives. For example, food vendors must use 100% biodegradable and eco-friendly disposable serviceware instead of traditional plastic and Styrofoam, since these items can be composted, rather than put into a landfill.
ResortQuest is offering visitors to Kiawah Island, Seabrook Island, Isle of Palms and Wild Dunes exciting and exclusive ways to save, all while staying in fully-equipped private homes, villas and cottages. The area offers miles of pristine beach, championship golf, tennis, biking, nature tours, shopping, dining, water-related activities and more. A program called ResortQuest Privileges offers special rates and discounts on activities, tours, dining, and shopping from area venues. Historic downtown Charleston is just a short drive away from the beaches. Call 1-866-253-3633 to find out about special discounts on lodging.
About ResortQuest
ResortQuest, one of the nation's leading vacation rental and resort real estate companies, provides a one-stop resource in North America's premier resort destinations. ResortQuest Charleston is the largest vacation rental company serving Charleston and the beach resort islands of Kiawah, Seabrook, Isle of Palms, Wild Dunes and Sullivan's Island. ResortQuest has offices located on Kiawah Island, Seabrook Island and Isle of Palms, South Carolina.
###